Air's vocalist Beth Hirsch releases 'Love Is For Everyone – LIFE' on 30th November
|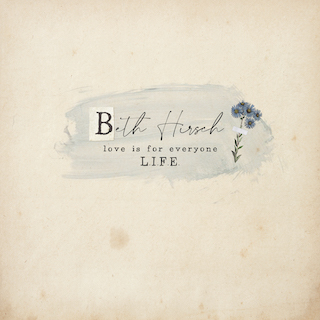 American singer and songwriter Beth Hirsch returns with a new studio album, 'Love Is For Everyone – LIFE' on 30th November , it will be available digitally, as standard black & coloured vinyl and cassette.
Following the release of the album's opening single 'Allisson Something', and the recently released 'All I Need (Elliot's Cosmic Remix)' – one of the two tracks she featured on from Air's multi-platinum album 'Moon Safari' – and 'Life Is Mine (2.0)' on 2nd October – the upcoming album surveys 20 years-plus of studio adventures. In addition to her distinguished solo recordings, few artists have built such a reputation as the go-to guest on a wealth of sophisticated projects, with 'Love Is For Everyone – LIFE', the talented artist created a collection of the best of them all, through a series of bespoke mixes that bring Beth's story right up to date.
Featuring a remix of ELIOT's Cosmic Remix of 'All I Need', as well as collaborations with American electronica group Karmacoda, London based producer and songwriter Grey Tropical, DJ and producer Vincenzo Callea, French composer Tristan Bres, long term collaborators Phillippe Balatier and Pascal Reva and songwriter Rosita Kess. Born from Beth's idea of a compilation that would live as much in the present and the future as in the past, 'Love Is For Everyone – LIFE', is collaborative effort, one which sees all artists involved adding their own specific sounds to the original songs; "it's been great the way it has really evolved with all the people involved", she says.
Beth Hirsch raised to fame for her collaboration with French duo Air on their critically acclaimed debut album 'Moon Safari', not only making a significant contribution to the album as lead vocalist/co-writer on two of the record's key moments, the hit single 'All I Need' and 'You Make It Easy', but also performing live around the world as part of Air's live touring band. Her sultry and haunting duet with Senegalese singer Wasis Diop, 'Everything' was included in the soundtrack for Pierce Brosnan film, 'The Thomas Crowne Affair'. Signed to !K7 Records Hirsch released her debut solo album, the acoustic 'Early Days' in 2000, followed by the Pitchfork-approved electronic 'Titles & Idols' in 2001. After a series of collaborations with artists including Pale 3, Jakatta and D*Note, Hirsch released her third solo album 'Wholehearted' in 2007.
The beauty of 'Love Is For Everyone – LIFE' is its ability to let a whole new generation of listeners discover chill out and ambient pop music through a compelling body of work.
Album Track List:
1. Allison Something
2. I Still Believe In Love (Soul Version)
3. Path Of Magic
4. Life Is Mine 2.0
5. Down To You
6. We Don't Have A Lot Of Time
7. All I Need (Elliot's Cosmic Remix)
8. Protect You (Acoustic Version)
9. Northern Sky
10. Peace
11. Crying The Sun
---
Don't forget to follow our Spotify Playlist: