Jazwares Launches Collectibles Inspired By K-Pop Superstars BLACKPINK
|
K-Pop sensation BLACKPINK is about to take center stage with an exciting new launch. In partnership with toy company Jazwares, the K-Pop superstars are  launching their first-ever collectible toy line. Available at Target and Amazon, the BLACKPINK collection features three debut products, including mini mystery collectible dolls.
Designed to capture BLACKPINK's captivating, empowering songs and fashion, the collection, first teased at New York Toy Fair in February, is geared towards die-hard BLINKS, casual fans, and those looking to discover the girl group for the first time. The line also offers an inside look into BLACKPINK, as the products were inspired by the group members' individual personalities, fashion, beauty, and talent, with the goal of bringing their most iconic music video moments to life.
At today's launch, the BLACKPINK collection includes:
3″ Mystery Pop Stars Assortment ($4.99):
Each Mystery Pop Star includes a mini 3″ collectible doll that comes packaged in a  microphone-shaped case, which can also be used for storage, to offer a surprise unboxing for the recipient. With 12 different styles for fans to collect, the individual Pop Stars include one mystery doll dressed in iconic looks, that can be mixed and matched across the line, from BLACKPINK's most popular music videos.
3″ Mystery Superstars Assortment ($9.99):
The Superstars Assortment offers a more elevated unboxing experience than the Mystery Pop Stars, featuring a mini 3″ doll in a heart-shaped case, as well as surprise items including 3 mix & match fashion accessories for the doll, a beaded bracelet with an iconic charm for the owner, and confetti. The 4 different collectible styles available feature iconic looks from BLACKPINK's top singles, "Kill This Love," "DDU-DU DDU-DU," "WHISTLE," and "BOOMBAYAH."
Light-Up Plush Heart ($14.99):
The soft, pink heart-shaped plush is an interactive way to bring BLACKPINK's music to life and into your own room, through a synced light show. Reactive to both touch and ambient sounds, the plush features four different light-up effects, including fading in and out, rotating around the heart, blinking in a "heartbeat" pattern, and responding to music and sound patterns. Aside from the exciting features, the plush also serves as a lifestyle item that matches any decor.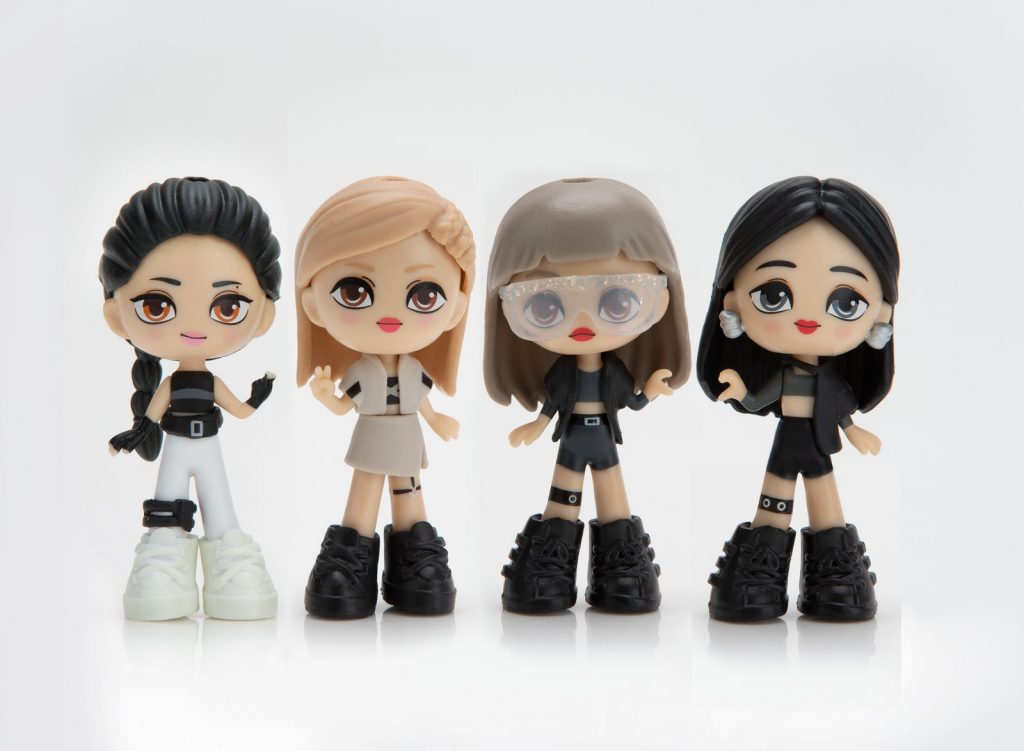 Later this summer, fans can look forward to another product release, with the launch of the VIP All-Access Box Assortment featuring a collection of more than 10 surprise items inspired by BLACKPINK's first mini album, Square Up. The cube-shaped reusable container includes accessories for the owner such as glitter barrettes, stickers, a key chain, photographs of the girls, nail stickers, and a special phone stand.
"We're thrilled to join forces with the international sensation, BLACKPINK, to debut a collection both authentic to the individuality of the members and catered towards their loyal fans," said Laura Zebersky, Chief Commercial Officer at Jazwares. "We worked closely with each artist to capture their unique styles, both on and off the stage, for the collectibles and hope that fans are just as excited as we are about the unique details and touches that went into the line's creation."
Beyond the toy line, BLACKPINK is returning after a year-long break from music since the group's most recent EP and world tour, starting with a new single out June 26, followed by an upcoming album and single projects.The partnership between Jazwares and BLACKPINK was facilitated by global merchandising company Bravado.
---
Don't forget to follow our Spotify Playlist: