Hollywood Undead release new album "New Empire Vol. 1"
|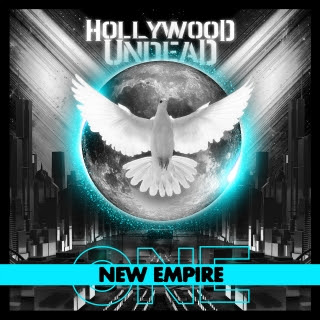 California's own Hollywood Undead release highly-anticipated sixth full-length studio album, "New Empire, Vol. 1", via BMG. Produced by Matt Good (Sleeping With Sirens, Asking Alexandria), the record is comprised of nine high-energy tracks that showcase the band embracing a heavier, hard-rock sound with this effort.
"This album is our attempt at reimagining Hollywood Undead, not just a new sound for this release, but a new sound for the band altogether. Our goal from the outset was to make music that stands alone from our other albums, yet seamlessly fits with what we've made before. Building upon the old to create a new sound and a New Empire, explains Johnny 3 Tears (vocals, bass guitar).
Hollywood Undead also recently announced their massive, 20+ date European co-headline tour with Papa Roach, launching on February 16 in Barcelona and wrapping up on March 18 in Copenhagen.
Hollywood Undead Is:
Johnny 3 Tears – vocals, bass guitar
J-Dog – vocals, guitar, bass guitar, keyboards, synthesizer, programming
Charlie Scene – vocals, guitar
Funny Man – vocals
Danny – vocals, keyboards, guitar, bass
---
Don't forget to follow our Spotify Playlist: