DeWolff's "Tascam Tapes" is out
|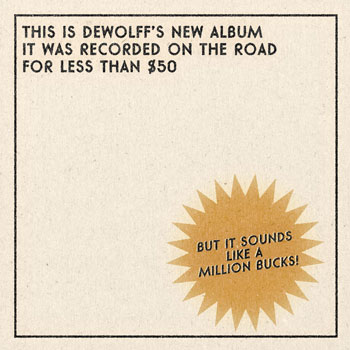 For their 7th studio album, their studio was essentially packed into a suitcase. "Tascam Tapes" was recorded on a Tascam Porta Two, a four-track cassette recorder from the 1980's. The only equipment they used was a sampler with some rare soul and funk sampled drum beats loaded in by Luka, a battery-powered synthesizer and a guitar, all plugged directly into the recorder. 
Pablo van de Poel (guitar, vocals), Luka van de Poel (drums) and Robin Piso (Keys) spent 4 months on the road, hurtling across mainland Europe via food poisoning, altercations with the cops and sold-out shows, as they careered through France, Spain, Germany, Belgium, Switzerland, Austria and The Netherlands to bring you this gnarly 12 slices of deliciousness.
Recorded in hotels, motels, a backstage or two and by the side of the road, this is DeWolff like you've never heard them before! The video for the third single "Nothing's Changing" was shot entirely during that 2018-2019 tour on which the band wrote and recorded the Tascam Tapes.
---
Don't forget to follow our Spotify Playlist: