David Guetta and MORTEN release the highly anticipated 'Never Be Alone' with Aloe Blacc
|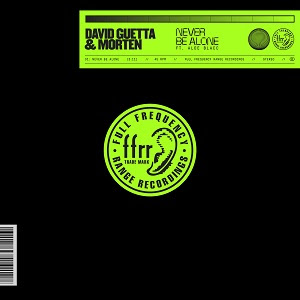 Just in time for the summer holidays, David Guetta releases his highly anticipated collaboration with MORTEN and Aloe Blacc 'Never Be Alone'. Guetta has been opening his sets with the instrumental of the track ever since Ultra Music Festival in Miami, with crowds all over the world going crazy.
Combining forces with one of his good friends, the nr. 1 Danish dj and producer MORTEN, this track is sure to get the party started. Bringing a futuristic take on the analog House sound. Incorporating strong Scandinavian melodic roots and drawing inspiration by trends in the techno scene, 'Never Be Alone' is a cut that can be played at clubs, festivals and stadiums alike to engage an instant jump up euphoric reaction.
The massive track features powerful vocals from Aloe Blacc, who is best known for his singles 'I Need a Dollar', 'The Man' and his vocals on Avicii's 'Wake Me Up' and 'SOS'. Now finally seeing the light, the track had other DJ's clamoring for its release for weeks to be able to play it in their sets.
'Never Be Alone' follows Guetta's collaboration with Raye on 'Stay (Don't Go Away) and 'Thing For You' with Martin Solveig.
Meanwhile Guetta has started his summer season with his highly successful residencies BIG and F*** Me I'm Famous on Ibiza at Ushuaïa and Hï, while also heading out to play lots of mainstages at festivals.
See David Guetta live:
02/08/19 FMIF! Hï, Ibiza, Spain
03/08/19 Big Slap Festival, Malmö, Sweden
04/08/19 Cluj, Untold Festival, Romania
05/08/19 BIG Ushuaïa, Ibiza, Spain
09/08/19 FMIF! Hï, Ibiza, Spain
10/08/19 Dance Valley Holland, Amsterdam, The Netherlands
12/08/19 BIG Ushuaïa, Ibiza, Spain
14/08/19 Red Valley Festival, Arbatax, Italy
15/08/19 Summerdaze Festival, Ti Qali, Malta
16/08/19 FMIF! Hï, Ibiza, Spain
19/08/19 BIG Ushuaïa, Ibiza, Spain
23/08/19 FMIF! Hï, Ibiza, Spain
26/08/19 BIG Ushuaïa, Ibiza, Spain
30/08/19 FMIF! Hï, Ibiza, Spain
31/08/19 Festningen Festival, Trondheim, Norway
01/09/19 Sea Dance Festival, Buljarice, Montenegro
02/09/19 BIG Ushuaïa, Ibiza, Spain
06/09/19 FMIF! Hï, Ibiza, Spain
09/09/19 BIG Ushuaïa, Ibiza, Spain
13/09/19 FMIF! Hï, Ibiza, Spain
16/09/19 BIG Ushuaïa, Ibiza, Spain
20/09/19 FMIF! Hï, Ibiza, Spain
23/09/19 BIG Ushuaïa, Ibiza, Spain
27/09/19 FMIF! Hï, Ibiza, Spain
30/09/19 BIG Ushuaïa, Ibiza, Spain
04/10/19 FMIF! Hï, Ibiza, Spain
27/11/19 Halle Tony Garnier Lyon, France
28/11/19 Accor Hotels Arena, Paris, France
29/11/19 Barclay Card Arena, Hamburg, Germany
30/11/19 Olympiahalle Munich, Germany
01/12/19 Unipol Arena, Casalecchio, Italy
---
Don't forget to follow our Spotify Playlist: