Performance Lalah Hathaway in BIRD Rotterdam short, but extremely good
|
When Lalah Hathaway thanked a hot BIRD venue in Rotterdam, the Netherlands, just before 10 o'clock, the American soul singer is on the Rotterdam jazz stage for an barely hour and the bonus is already over. It is a shame, because the five-time Grammy winner performed a sublime gig that should have continued for at least half an hour.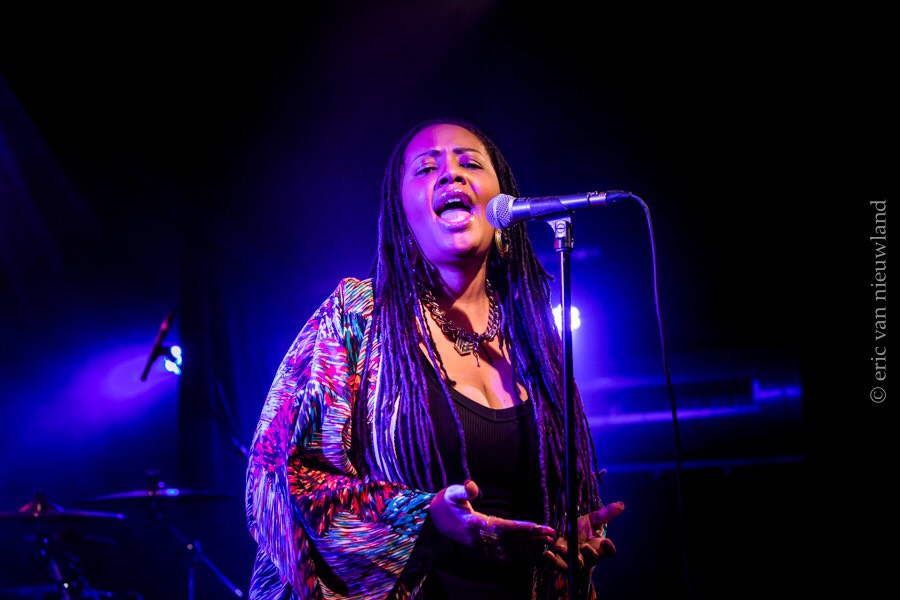 The concert of Hathaway took place in the framework of North Sea Round Town, the annual warm-up event for the North Sea Jazz Festival. After a DJ-set full of soul and funkclassics from Hathaway's band member DJ Spark, the diva entered the stage of the sold-out jazz club. The night before, the singer delivered one of the highlights during the 85th anniversary concert of Quincy Jones at the O2 Arena in London. There, together with Jacob Collier, Hathaway sang an impressive performance of Michael Jackson's 'Human Nature' under the guidance of the Full Symphonic Orchestra.
Hathaway also sang many covers in BIRD. Her version of Luther Vandross' 'Forever, For Always, For Love' is widely known and was received with a warm welcome. Hathaway once again showed excellent control over her flawless vocals with which she impressed from start to finish. Hathaway also treated to excellent versions of Anita Bakers 'Rapture' and Earth Wind and Fire's 'Love's Holiday'. The biggest surprise was a spectacular a capella sung 'A Song For You', the classic of her legendary father Donny Hathaway. All the more because Lalah rarely sings songs from him, this was a special moment during the performance. The performance made it clear how much her dark, deep timbre resembles that of her father. And with that at that moment the realization that you could not get closer to Donny Hathaway.
In addition to the covers, there was room for a few songs from the latest long player 'Honestly' and the funky 'Shine' from the previous studio album 'Where it All Begins'. Every song was placed with top class and cared for to the last detail. That was thanks to Hathaway's phenomenal trio that besides DJ Spark consisted of guitarist Ben Jones and drummer Tavarius Varo Johnson. They made the material sound more organic and raw than on a plate. And that benefited the songs. In spite of the short duration of the concert, Hathaway once again proved that she is a singer of exceptionally large class that turns out to be even more sensational.
---
Don't forget to follow our Spotify Playlist: