Bee Gees-Led 'Saturday Night Fever.' Celebrated With Special 40th Anniversary Edition
|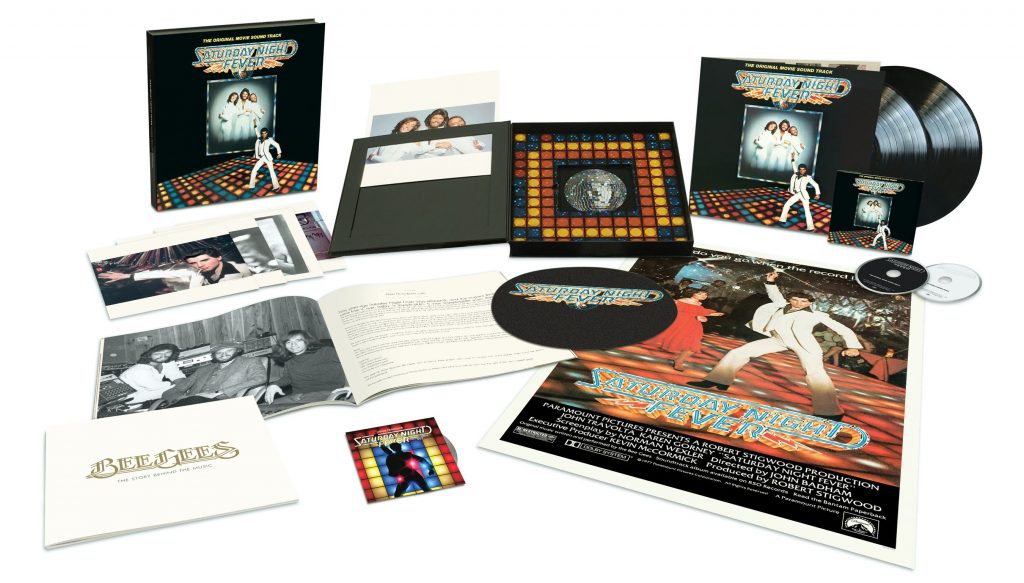 In 1977, Saturday Night Fever captured and propelled a global cultural movement like few movies before or since, with its iconic, Bee Gees-led soundtrack driving the film's dance floor action. A worldwide smash upon release and an essential modern classic for all time, 'Saturday Night Fever (The Original Movie Soundtrack)' spawned four No. 1 singles and won the GRAMMY Award® for Album of the Year. On November 17, Capitol/UMe will release the illustrious soundtrack's 40th Anniversary Edition in expanded commemorative configurations including a super deluxe box set that pairs the remastered album and remixes with the film's 4K-restored 40th Anniversary Director's Cut.
"Forty years ago, Saturday Night Fever was released and the impact that came from it, even today, is inexplicable. It was inexplicable even then," writes the Bee Gees' Barry Gibb in his new essay for Saturday Night Fever (The Original Movie Soundtrack) 40th Anniversary Edition.
The 'Saturday Night Fever (The Original Movie Soundtrack)' 40th Anniversary Super Deluxe Edition box set features two CDs with the remastered original album and four Serban Ghenea remixes, the remastered album on heavyweight 180-gram 2-LP vinyl in a gatefold jacket with faithfully replicated original album art, and a Blu-ray disc with the film's 4K-restored 40th Anniversary Director's Cut and Theatrical Version, plus bonus features. The collectible box set also includes a 23-page book with newly-written essays by Barry Gibb, Saturday Night Fever music supervisor and soundtrack producer Bill Oakes, director John Badham, and the film's score composer and musician David Shire, as well as Bee Gees photos and stills from the film, plus an exclusive turntable slipmat, a set of five art prints, and a reproduction of the original Saturday Night Fever movie poster. The soundtrack's new 2-CD and digital 40th Anniversary Deluxe Edition pairs the remastered album with the four new Serban Ghenea remixes.
Composed and performed primarily by the Bee Gees, the legendary album's mega-hits include "Stayin' Alive," "Night Fever," "How Deep Is Your Love," "More Than A Woman," and "If I Can't Have You." Certified 15-times multi-platinum by the RIAA for U.S. album sales totaling more than 15 million, 'Saturday Night Fever (The Original Movie Soundtrack)' has sold more than 40 million copies around the world. The album topped the U.S. album charts at No. 1 for 24 consecutive weeks and remained on Billboard's albums chart for 120 weeks, also holding the No. 1 spot on the U.K. album charts for 18 consecutive weeks. In 2004, 'Saturday Night Fever (The Original Movie Soundtrack)' was inducted into the GRAMMY Hall Of Fame® and it was added to the U.S. Library of Congress' National Recording Registry as a culturally significant work in 2013.
For Saturday Night Fever's 40th Anniversary, the film's director John Badham worked with Paramount Pictures to restore the film in 4K resolution using the original negative, and to update the film's surround sound mix to further enhance viewers' enjoyment of its incredible soundtrack. During this process, he added scenes to the R-rated theatrical version that round out character and plot, making the 40th Anniversary Director's Cut the definitive representation of his original vision.
With John Travolta's electrifying Academy Award®-nominated performance, the Bee Gees' explosive soundtrack and, of course, the unforgettable dancing, Saturday Night Fever captured the angst and brio of the time, making an indelible impact on popular culture. Forty years later, the film about a Brooklyn kid with no prospects who lives for Saturday night continues to be revered and celebrated.
The Bee Gees – brothers Barry, Robin and Maurice Gibb – have earned their stature as one of the world's most popular and bestselling groups of all time. Having recorded 22 studio albums and for numerous soundtracks, including the monumentally successful Saturday Night Fever, the Bee Gees infused popular culture with dozens of worldwide hit singles that featured their singular and highly influential three-part harmonies. They achieved nine Number Ones and 23 Top 10 singles on the Billboard Hot 100 chart, including "How Deep Is Your Love," "Night Fever," and "Stayin' Alive" from Saturday Night Fever, and hit charts around the world with many other classics, including "How Can You Mend A Broken Heart," "I Started A Joke," "Lonely Days," "Words," and "You Win Again."
Among the honors bestowed upon the Bee Gees are five GRAMMY Awards®, as well as The Recording Academy's Lifetime Achievement Award, Legend Award, and President's Award; five American Music Awards; a Brit Award for Outstanding Contribution to Music; and a Legend Award from the World Music Awards. They have been inducted into the Rock and Roll Hall of Fame, the Songwriters Hall of Fame, BMI Icons, the Vocal Group Hall of Fame, and the Dance Music Hall of Fame. All three brothers were appointed Commanders in the Order of the British Empire in 2001.
Saturday Night Fever (The Original Movie Soundtrack) 40th Anniversary Super Deluxe Edition
[2-CD / 2-LP / Blu-ray box set]
CD 1
1. Stayin' Alive [performed by Bee Gees]
2. How Deep Is Your Love [performed by Bee Gees]
3. Night Fever [performed by Bee Gees]
4. More Than a Woman [performed by Bee Gees]
5. If I Can't Have You [performed by Yvonne Elliman]
6. A Fifth of Beethoven [performed by Walter Murphy]
7. More Than a Woman [performed by Tavares]
8. Manhattan Skyline [performed by David Shire]
9. Calypso Breakdown [performed by Ralph MacDonald]
10. Night on Disco Mountain [performed by David Shire]
11. Open Sesame [performed by Kool & the Gang]
12. Jive Talkin' [performed by Bee Gees]
13. You Should Be Dancing [performed by Bee Gees]
14. Boogie Shoes [performed by KC and the Sunshine Band]
15. Salsation [performed by David Shire]
16. K-Jee [performed by MFSB]
17. Disco Inferno [performed by The Trammps]
CD 2
The Serban Ghenea Mixes
1. Stayin' Alive
2. Night Fever
3. How Deep Is Your Love
4. You Should Be Dancing
2LP Vinyl
SIDE A
SIDE B
1. Stayin' Alive (Bee Gees)
6. A Fifth of Beethoven (Walter Murphy)
2. How Deep Is Your Love (Bee Gees)
7. More Than a Woman (Tavares)
3. Night Fever (Bee Gees)
8. Manhattan Skyline (David Shire)
4. More Than a Woman (Bee Gees)
9. Calypso Breakdown (Ralph MacDonald)
5. If I Can't Have You (Yvonne Elliman)
SIDE C
SIDE D
10. Night on Disco Mountain (David Shire)
15. Salsation (David Shire)
11. Open Sesame (Kool & the Gang)
16. K-Jee (MFSB)
12. Jive Talkin'  (Bee Gees)
17. Disco Inferno (The Trammps)
13. You Should Be Dancing (Bee Gees)
14. Boogie Shoes (KC and the Sunshine Band)
Blu-ray
Saturday Night Fever 40th Anniversary Director's Cut by John Badham [4K-restored under supervision of director John Badham]
Saturday Night Fever Theatrical Version [4K-restored under supervision of director John Badham]
– Audio Commentary by director John Badham [Theatrical Version Only]
– '70s Discopedia [Theatrical Version Only]
– Catching the Fever
– Back to Bay Ridge
– Dance Like Travolta with John Cassese
– Fever Challenge!
– Deleted Scenes
---
Don't forget to follow our Spotify Playlist: