Guestlist4Good and Amsterdam Dance Event Launch India's Biggest Club Festival
|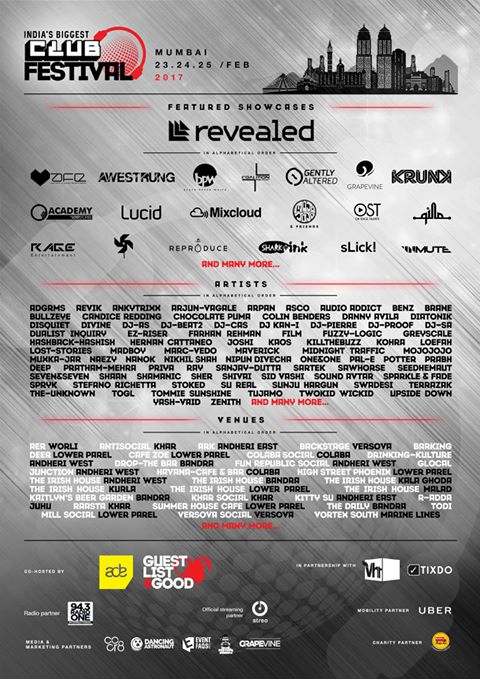 According to a survey done by TOI, 90% of the Indian urban youth feel home is where nightlife is. The decade gone by has seen an immense growth in the music and lifestyle industry, and this is a result of multiple factors like digital/mobile consumption, the era of entrepreneurship and exposure, access to pretty much anything or anyone via multimedia.
Products are created for the Indian millennial especially, given this rate of acceptance and growth. They are constantly seeking tech solutions for every action and need of theirs on a daily basis and this is what is driving many to keep creating products that they need and will value.
Music and gaming shine out as the most consumed industries online, so the need to create products that enhance the quality of user experience in these two sectors is obvious. One such product is Streo that was introduced mid last year with a promise to make music from nightclubs, bars and festivals available to its users 'Real Time' (LIVE) as well as in an 'On Demand' format. Streo seems to have captured a decent share of the market in the top 5 youth oriented party cities of the country – Delhi, Mumbai, Bangalore, Goa and Pune.
Streo is excited to be the official streaming partner of 'India's Biggest Club Festival', co-hosted by Guestlist4Good and the Amsterdam Dance Event (ADE) on the 23rd, 24th and 25th of February 2017, Mumbai.
Guestlist4Good is Shailendra Singh's latest initiative – India's first ever entertainment-for-good social enterprise. Together with ADE – the world's leading electronic music conference – they are co-hosting both the daytime programme of ADE Global Sessions Mumbai for the second time, followed by India's Biggest Club Festival at night.
The audience has an opportunity to live stream gigs all through the festival on Streo which is available for free for iOS and Android, from the best clubs in Mumbai like Kitty Su, Antisocial, Aer, Rasta, Ark, Cafe Zoe etc.
---
Don't forget to follow our Spotify Playlist: