Ed Sheeran confirms new album ÷
|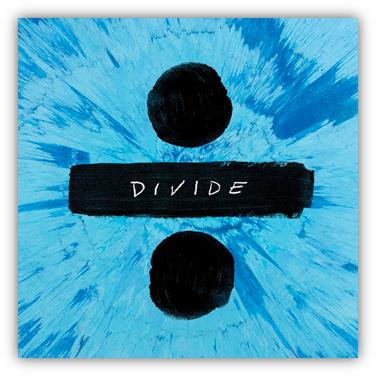 Continuing to make history this week with his TWO record-breaking comeback singles – "Shape Of You" and "Castle On The Hill"- worldwide superstar Ed Sheeran has confirmed details of his hugely anticipated new album ÷ (pronounced "divide"), set for release on 3rd March 2017 through Asylum/Atlantic Records – the album is available to pre-order from 12am GMT tomorrow, Friday 13th January. Moreover, Ed has broken yet another streaming record this week – "Shape Of You" makes Spotify history again, breaking the record for 'one day' streams accumulating 7,940,950, which knocks Adele's "Hello" off of the top spot!
Ed commented – "First off, what a week! The reaction to my new singles has been absolutely mind-blowing and I can't thank you enough. My new album ÷ holds a very special place in my heart and I really believe this is my best work to date. I've been eager to get back and I couldn't be more excited for March 3rd."
÷ (pronounced "divide") – Ed's third studio album – is on course to become one of the most significant global album releases of 2017 and sees the 25-year-old Suffolk native in his finest form yet. The genre-defying LP is the result of an artist who consistently pushes himself in new directions, uncovering fresh musical ground using a seemingly limitless musical vocabulary. Drawing inspiration from a host of personal experiences and subjects, Ed takes you through a hugely personal journey; be that reflecting on past relationships, family memories, his musical career or his time off travelling the world in 2016. Musically ÷ is an array of beautifully orchestrated and emotive ballads, impassioned raps laid over hip hop beats, timeless acoustic guitar masterpieces and innovative, idiosyncratic pop music.
Unveiled Friday 6th, Ed's record-breaking dual comeback singles perfectly highlight one of the distinct divides in his musical spectrum with "Castle On The Hill" (an ode to his hometown of Framlingham, Suffolk) positioning itself towards a stadium-ready, rockier sound and "Shape Of You" dismantling and rebuilding modern-pop using little more than a loop pedal (please see their record-breaking accolades below). ÷ will reveal everything in-between whilst showcasing Ed's impeccable guitar playing, peerless lyricism, boundless musical palate and jarringly-honest, and often autobiographical, storytelling – some of the reasons this much-loved talent has built an undeniably loyal following across the globe. Executively produced by Benny Blanco (Rihanna, The Weeknd) and Ed himself with further production coming from Johnny McDaid, Mike Elizondo and Steve Mac, the album was recorded between LA, London, Suffolk and RMS Queen Mary 2. Hugely representative of modern times, both sonically and topically, ÷ reaffirms Ed as one of the world's most forward-thinking and versatile troubadours. Furthermore, Ed created the album artwork concept, even painting the cover himself!
'÷' follows Ed's previous record-breaking, multimillion-selling albums 'x' (pronounced "multiply" – 2014) and '+' (pronounced "plus" – 2011). Spawning Ed's first-ever Ivor Novello win in 2011 with "The A Team" winning 'Best Song Musically and Lyrically', '+' has now sold over 9 million albums worldwide and is 9 x platinum in the UK alone. His follow-up multi award-winning album 'x' has gone onto become one of the most significant and record-breaking albums of this millennium. 2014's biggest AND fastest-selling album in the UK, it was officially named one of the biggest-selling albums of all time by the Official Chart Company last year: it has received over 3.5 BILLION streams to date.
'÷' TRACKLISTING
1. Eraser
2. Castle On The Hill
3. Dive
4. Shape Of You
5. Perfect
6. Galway Girl
7. Happier
8. New Man
9. Hearts Don't Break Around Here
10. What Do I Know?
11. How Would You Feel (Paean)
12. Supermarket Flowers
Deluxe
13. Barcelona
14. Bibia Be Ye Ye
15. Nancy Mulligan
16. Save Myself
---
Don't forget to follow our Spotify Playlist: