Into the Valley Music Festival Expands to Estonia
|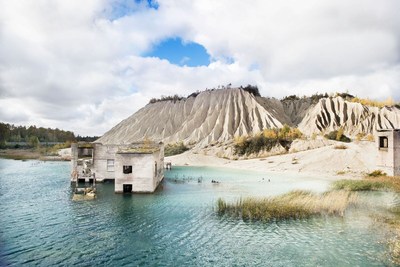 The electronic music festival "Into the Valley" has for two years attracted visitors from all around the world up to Dalhalla in Sweden. In 2017, the festival will be held in the new amazing place: an underwater prison of Rummu in Estonia, outside Tallinn.
Moreover, new festivals "Into the Factory" (Stockholm Couty, Sweden) and "Into the Castle" (Cape Town, South Africa) are revealed. All together, six new festivals will be established by 2019. These new experiences are arranged by "Music Goes Further" promo group and are based on seven key principles: unique locations, advanced electronic music, pioneering technology, innovative art, food and bar architecture, holistic awareness and social equality.
Rummu, there Into the Valley takes place, has unique history. Since the late 1930s, it functioned as a limestone quarry, founded alongside with the Soviet prison Murru, in purpose of mining of limestone and marble. Following the dissolution of the Soviet Union in 1991, the mine has been closed and the quarry soon enough became a quarry lake. Some parts of the prison, mining machinery and equipment were covered by crystal clear water.
Since few years back the prison was also closed and the quarry was abandoned, becoming an attractive place for hikers, scuba divers, bikers, photographers, and film-makers because of its unique landscape. There are rumours that the former prison used to be the one of the worst of its time, promoters however believe that it is now time for music and joy to seize the place and update the history.
The confirmed artists so far:
Andrey Zots Kim Ann Foxman
Anna Hanna Kink feat.
Answer Code Request Rachel Row (live)
Anthea Marcel Dettmann
Bella Sarris Midland
Cassy Nastia
Cobblestone Jazz (live) Olga Korol
Dixon Praslesh
Hunee Recondite (live)
Janina Regis
Jeff Mills Renaat R & S
Kask The Black Madonna
Into the Valley Festival will take place between June 29- July 1, 2017. The festival is about 45 km away from Tallinn, and two accomodation packages are available: hotel package for those who want to stay in Tallinn, and the camp package for visitors with private cars and caravans for staying at the festival area. Shuttle bus tickets for travelling between Tallinn and the festival are also available. The age limit for the festival is 23 years, but limited amount of "Under 23" tickets is available.
---
Don't forget to follow our Spotify Playlist: