Globetrotting Canadian roots balladeer Scott Cook announces European tour
|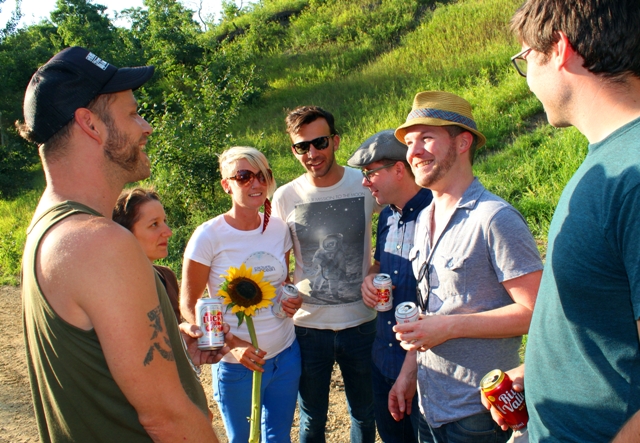 A roots balladeer with a rare personal warmth, Canada's Scott Cook has managed to distil the stories collected over a decade of near-incessant touring across Canada, the USA, Europe, Asia, and Australia into straight-talking, keenly observant verse. Road-worn, painfully honest, and deeply human, his tunes weave threads of folk, roots, blues, soul and country over spacious fingerstyle guitar and clawhammer banjo arrangements. His fourth release, One More Time Around, was nominated for a Canadian Folk Music Award, and its opening track 'Pass It Along' won the Folk and Acoustic category in the 2013 UK Songwriting Contest. He's currently touring around the world in support of his fifth album, Scott Cook and the Long Weekends Go Long. Cook is one of the hardest-working DIY troubadours on the road today, averaging over 160 gigs and a dozen festivals a year. All the hard miles notwithstanding, he still believes that songs can change your life, and your life can change the world.
Scott Cook's fifth full-length album in eight years, Go Long (2016), sees the tirelessly travelling balladeer switching gears, from the profound and sometimes heartbreaking acoustic ruminations of 2013's One More Time Around, to a danceable collection of songs backed by his seven-piece honky-tonk band The Long Weekends. Where the previous album had a 36-page booklet containing the chords and lyrics to the songs alongside a long essay on questions of intellectual property, state secrets, and the imperilled future of the human race, this album has a 48-page photo booklet of the band in a park playing a Frisbee drinking game. The lyrics and chords are still in there, not to worry. And beneath the whimsy, there are still existential and political themes being mined; he's just coming at them from a different angle.
The thirteen-song album starts with the sound of a beer cracking open, and charges right into the Long Weekends' theme song, inspired by the near-sleepless summer festivals that gave the band its name. There's also a song about overplayed campfire jams, an anti-pipeline co-write with Raghu Lokanathan, an eight-minute talking blues rant about end-of-the-world predictions, a Stringband homage to a lady outlaw, a cosmic birthday song that would surely replace 'Happy Birthday' if only it weren't so hard to sing, covers of his friends Scotty Dunbar, Trevor Mills, and Corin Raymond, and a sublime closing piece about an inevitable part of growing up: learning to leave while the party's still going. It's rough around the edges and even a little off-colour at times, but there's a life affirming, sun-dappled optimism throughout.
SCOTT COOK · TOUR
OCTOBER
Wed 26 Long Buckby, Northants. House Concert
Thu 27 Forest Row, East Sussex Hop Yard
Fri 28 Bourne, Lincs. Wild Heart Café
Sat 29 King's Cliffe, Northants. House Concert
Sun 30 Uppingham, Rutland House concert
NOVEMBER
Tue 1 Widnes House Concert
Wed 2 Berwick-upon-Tweed Barrels Ale House
Thu 3-Fri 4 Dunkeld Perthshire Amber Festival
Sat 5 Letham, Fife House Concert
Sun 6 Edinburgh House Concert
Wed 9 Dinslaken, Germany Kostbar
Fri 11 Steendam, Netherlands Podium Café 'Peter en Leni'
Sat 12 Spijkerboor, Netherlands Café 't-Keerpunt
Tue 15 Woerden, Netherlands Het Klooster
Thu 17 London Woodburner, The Styx Bar, Tottenham
Fri 18 Cranford, Northants. The Sofa Sessions
Sat 19 Kettering The Sofa Sessions
Sun 20 Bath The Bell Inn
Mon 21 Priddy, Somerset Queen Victoria Inn
Wed 23 Stroud The Prince Albert
Thu 24 Glastonbury Hawthorns
Fri 25 Priston, nr. Bath Priston Village Hall
Sat 26 Bristol Kings Weston House, The Oak Room
Sun 27 Worth Matravers The Square and Compass
---
Don't forget to follow our Spotify Playlist: