Canadian Klezmer-Punk Accordionist brings latest album to the EU
|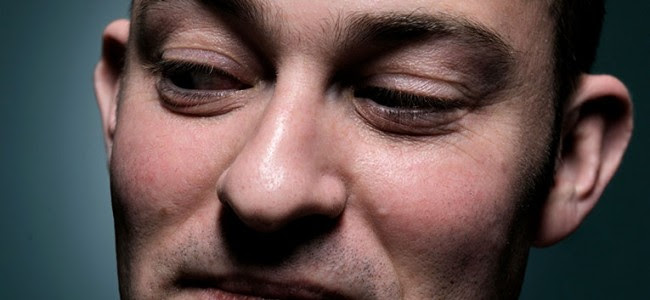 Geoff Berner, from Vancouver, Canada, plays Klezmer music, the music of Eastern European Jews, with a punk energy, and pugnacious, political attitude. Over the years he has built a cult following throughout North America and Europe on the strength of his strangely charming confrontational, humorous style of live performance. Many other artists have covered his songs, including Kaizers Orchestra, Rae Spoon and Corb Lund. A Columbian band, Bestiario, recently translated Berner's version of the Jewish street song Daloy Polizei (Fuck the Police).
"Treasure him, treasure him, for there is truly no one like him." (Billy Bragg)
In October 2016, he brings his latest album, "We Are Going To Bremen To Be Musicians", to the Netherlands, Belgium and the UK. This album was released in late 2015 by Oriente Musik of Berlin, a prestigious World Music label. The album made the German Critics List of best recordings of 2015.
• Oct. 04 – London, UK – Commemoration of Cable Street Riot. Guest appearance.
• Oct. 06 – Hasting, UK – The Garage, (Mercatoria, TN38 0EB St Leonards on Sea, East Sussex)
• Oct. 07 – Croydon, UK – The Oval
• Oct. 08 – London, UK – Limehouse Town Hall
• Oct. 09 – Brighton, UK – The Greys, with Daniel Kahn and the Painted Bird
• Oct. 11 – Amsterdam, NL – De Nieuwe Anita (Frederik Hendrikstraat 111), with Briga!
• Oct. 12 – Rotterdam, NL – Memory Lane
• Oct. 14 – Liege, Belgium – L'An Vert
• Oct. 15 – Emmeloord, NL – De Klos
• Oct. 16 – Tilburg, NL – Paradox (VERY EARLY SHOW! 2:30 PM!)
• Oct. 17 – Aachen, DE (Germany) – Domkeller
• Oct. 18 – Ghent, Belgium – Private Show. Contact me for details.
• Oct. 19 – Brussels (Bruxelles), Belgium – Centre Communautaire Laic Juif
• Oct. 20 – London, UK – Islington Folk Club
• Oct. 21 – Whitby, UK – Musicport Festival
---
Don't forget to follow our Spotify Playlist: