DJ Shadow Announces Endtroducing 20th Anniversary Endtrospective Edition
|
2016 has been a stellar year for experimental hip hop luminary DJ Shadow, aka Josh Davis, with the release of his critically acclaimed studio album, The Mountain Will Fall, – his first release in five years – drawing praise from all corners, from The Guardian who called the record "impressive in its inventiveness" to Mojo who claimed "Shadow is back in the frame" and AV Club who hailed it as "DJ Shadow's best work since his early-aughts heyday." DJ Shadow is currently touring the new record and will be hitting North America later this month with two-night stands in Los Angeles and New York and shows in San Francisco, Portland, Philadelphia, Seattle, Boston, DC, Toronto, Montreal, Vancouver and others. Following, he will head to France to perform at Pitchfork Music Festival Paris and Turin, Itay for the Club To Club Festival.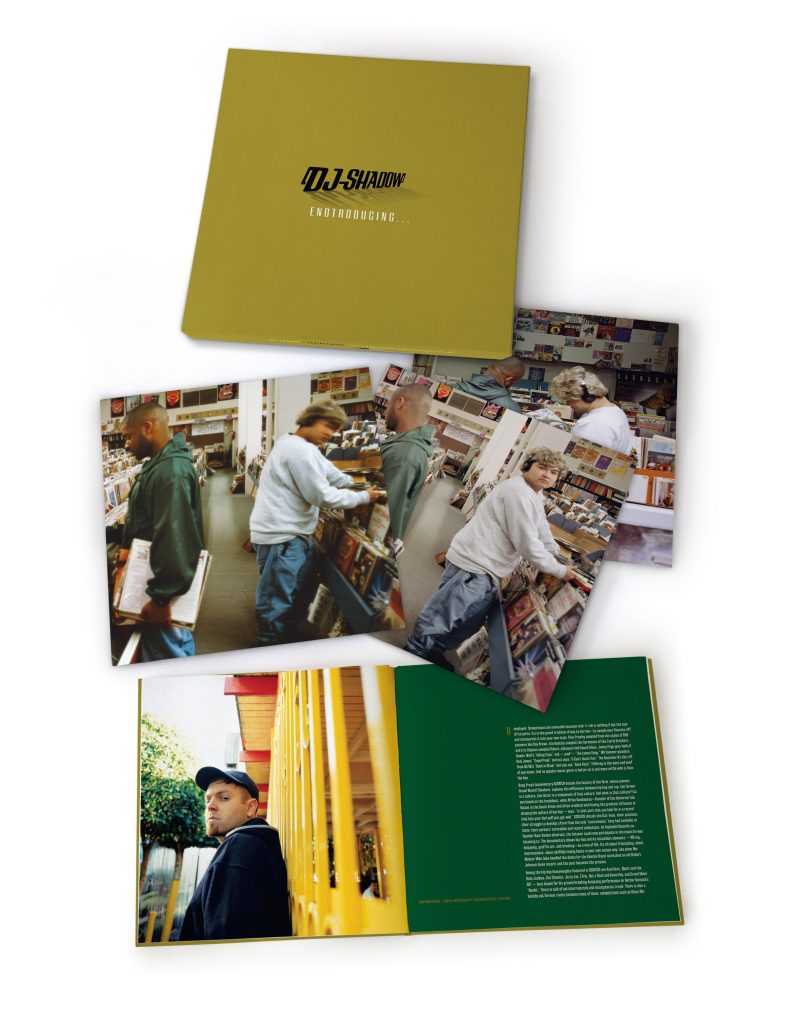 For many, it is Shadow's 1996 debut album, Endtroducing, that they keep returning to, widely regarded as a groundbreaking release that paved the way for experimental hip hop and changed the shape of electronic music from that point on. Upon its release, The Guardian gave it a 5-star review and called it "One of the most daring and original albums of recent times," continuing, "This is genius," while SPIN wrote that the album "practically folds you into its symphonic fantasia, the coming-of-age story of a 24-year-old bunk-bed dreamer." Almost a decade later Pitchfork awarded Endtroducing a perfect 10 in their review of the 2005 Deluxe Edition, calling the record "deeply spiritual."
Endtroducing was included in many critical lists of the best albums of 1996, and more recently has been ranked as one of the best albums of the 1990s by the likes of Q, SPIN, Pitchfork and Rolling Stone, who wrote, "The dystopian New Age of Endtroducing sounds like an alien spacecraft touching down on the autobahn late at night, probably to check out Earth's used-vinyl bins," adding, "This is DJ culture at its boldest: steeped in the past but zooming into the Space Age future." TIME magazine went one step further, hailing it as one of the "100 greatest albums of all time."
This year marks 20 years since that pivotal release, and to mark the occasion the San Francisco-based producer has announced a special deluxe CD/LP 20th Anniversary Endtrospective Edition (Island) featuring the original album, a collection of demos, alternate takes and live versions titled Excessive Ephemera, and Endtroducing Re-Imagined, featuring 12 specially commissioned remixes from some of contemporary electronic music's leading lights including Hudson Mohawke, Clams Casino, Salva, Prince Paul, Bondax & Karma Kid and more.
A seminal, incredibly influential hip hop release (also regarded as pretty much the last word in instrumental 'trip hop,' a term used a lot at the time), Endtroducing is simply one of the defining albums of the '90s. It is famously also the first record ever made entirely from samples of other people's records – with a particularly broad array of sources used, many mined from the catacomb-like basement under Davis's favorite record store in Sacramento, Calif., which has long-since closed its doors. This is the store pictured by photographer B+ on the album cover and in many other shots included in the package.
The CD/LP package will include expanded liner notes from a new interview conducted by Eliot Wilder (author of the lauded 33 1/3 book on the album) and some never-before-published photographs by B+ and Phil Knott to create the 20th anniversary release as Deluxe 3 CD and 6 LP (3 x double LP) sets. The new remixes will also be issued as a standalone digital album.
Speaking about the anniversary edition, DJ Shadow commented, "I've had to sort of concede that there is something about the record that took on a life of its own, that probably has very little to do with me. Nobody can plan these sorts of things. I think that everyone aspires to their music being loved and heard and appreciated on some level, but there are a lot of intangibles, and there are a lot of things that even the original artists couldn't have planned or fully understood at the time. I feel that way about Endtroducing. And I think that's the main difference between Endtroducing and all the other records I've made—it was the first time and it was a kind of a flag in the ground, at least within my body of work.
As a music lover, my favorite records always have some hallmarks of an era, but also sound as if they could have been made almost any time within a 20 year time span. I've always felt that as someone who buys a lot of records and sits there and studies them and kind of vibes off them, I also feel like once you put something out into the world, it can be discovered later. That happened so much with Endtroducing – 10 or 15 years down the road, people were discovering it."
From the liner notes by Eliot Wilder:
When it was released 20 years ago, Endtroducing sounded like nothing that had come before – an album of beats, beauty, and chaos. Looking back, no other popular record better summarizes the end of the 20th century. Josh Davis, alias DJ Shadow, took elements of hip-hop, funk, rock, ambient, and psychedelia, as well as found sounds, oddball spoken-word clips, and cut-out-bin nuggets – a trove of mostly forgotten or obscure recorded sounds – and then wrote the ultimate lesson.

It's an album that sits with you and lingers. It's an album you can return to and discover whole new areas you hadn't been aware of, like finding a room in your house you never knew was there. There is something about Endtroducing which often ranks high on critics' best albums-of-all-time lists, that always brings me back to it. It never fails to deliver emotionally on so many levels. Despite its melancholic atmosphere, there is something uplifting at its core. "If I were to find one word that resonates more than anything within Endtroducing, it would be 'hope,'" Josh has said.
DJ SHADOW – ENDTROSPECTIVE EDITION TRACK LISTING:
CD 1 / LP 1&2 – ENDTRODUCING
1. Best Foot Forward
2. Building Steam With A Grain Of Salt
3. The Number Song
4. Changeling
**Transmission 1
5. What Does Your Soul Look Like Part 4
6. Untitled
7. Stem / Long Stem
**Transmission 2
8. Mutual Slump
9. Organ Donor
10. Why Hip Hop Sucks in '96
11. Midnight In A Perfect World
12. Napalm Brain / Scatter Brain
13. What Does Your Soul Look Like Part 1 – Blue Sky Revisit
**Transmission 3
CD2 / LP 3&4 – EXCESSIVE EPHEMERA
1. Best Foot Forward – Alternate Version
2. Building Steam With A Grain Of Salt – Alternate Take Without Overdubs
3. The Number Song – Cut Chemist Party Mix
4. Changeling – Original Demo Excerpt
5. Stem – Cops 'N' Robbers Mix
6. Soup
7. Red Bus Needs To Leave!
8. Mutual Slump – Alternate Take Without Overdubs
9. Organ Donor – Extended Overhaul
10. Why Hip Hop Sucks In '96 – Alternate Take
11. Midnight In A Perfect World – Gab Mix
12. Napalm Brain – Original Demo Beat
13. What Does Your Soul Look Like – Peshay Remix
14. DJ Shadow Live In Oxford, England, October 30, 1997
CD3 / LP 5&6 – ENDTRODUCING RE-EMAGINED
1. Best Foot Forward – Teeko Remix
2. Building Steam With A Grain Of Salt – Salva Remix
3. The Number Song – Lee Bannon Remix
4. Transmissions – Kuedo Remix
5. Changeling II – Adrian Younge Remix
6. What Does Your Soul Look Like Part 4 – Teklife Remix
7. Stem / Long Stem – Clams Casino Remix
8. Mutual Slump – Daedelus Remix
9. Organ Donor – UZ Remix
10. Midnight In A Perfect World – Hudson Mohawke Remix
11. What Does Your Soul Look Like Part 1 – Prince Paul Remix
12. Building Steam With A Grain Of Salt – Bondax & Karma Kid Remix
---
Don't forget to follow our Spotify Playlist: