The Orb To Release New Album
|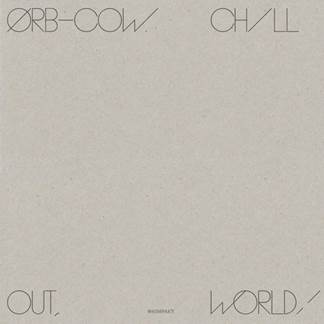 On October 14th Kompakt present The Orb's 16th album, COW / Chill Out, World!, which marks a creative renewal for the duo. It also features contributions from Youth and Roger Eno, and is encased in minimal 'ambient cover art' courtesy of The Designers Republic.
Despite apparently clear connotations to their history, influences and peers (like Alex Paterson's uncredited role in the KLF's 'Chill Out' album, or the cover cows of Pink Floyds 'Atom Heart Mother'), the album's title is actually an instruction, or at least a friendly suggestion. Whilst Alex calls it "a protest album in reverse", Thomas Fehlmann further explains, "we didn't intend to rehash old chill out vibes. On the contrary. It's the 21st century and it seems like a good idea for people to sit back and chill the fuck out, before continuing to act destructively. To chill out is to act consciously, guided from a calm centre."
Featuring only the occasional presence of buoyant, gently rhythmic pulses and loops, Alex Paterson describes COW as "our most ambient album yet". Sounds bubble, flutter and float through various atmospheres and moods, from bucolic and picturesque, childlike wonderment, the texture of bygone memories, to the universe's infinite depth.
COW's creation came together in different circumstances with a different working method to their last album. As Moonbuilding 2703 AD was originally commissioned by the English National Opera, the duo immersed themselves in that new world and maintained a close, continuous dialogue with the opera's orchestrator and technicians. The production fell through due to budget cuts and the recordings were then adapted for album format, hence its 6 year gestation period.
COW on the other hand, took just 6 months to make. One of main reasons for its speedy completion was Alex's recording of sounds whilst touring the world, straight to Ableton, using his iPhone. Field recordings were easily captured, whilst the countless hours of 'downtime' travelling, or at sound-checks became valuable moments for spontaneous creative laptop productivity.
Fehlmann also sees the duo's relentless live schedule as a formative influence. "The countless gigs we've played in recent years – probably up to 300 – have brought us closer as a musical unit. Our concerts consist mostly of non-verbal communication and improvisation – a fertile process that we've brought to the studio, where we operate with very simple rules of engagement (in this case 'ambient') and go wherever the flow takes us." It's an approach that one might expect from traditional acoustic instrumentation, not necessarily an electronic set-up, but for The Orb it works wonders. "We're quite happy and a little bit proud that we've reached this level of unscripted levity with purely electronic means. We're finessing ourselves, sort of, always looking for the next sonic surprise that leaves us rubbing our eyes about how the heck we got there."
"COW / Chill Out, World! is an off the cuff, immediate album", adds Thomas. "We produced it in the span of half a year, trusted our first instincts and allowed the ideas flow freely. We've gained self confidence in our continuous search for surprises, and in many ways it's a naivety we've found again, that lets us treat each tune as if it were the first."
---
Don't forget to follow our Spotify Playlist: