Swedish guitarist Dregen to release solo debuut
|
Swedish guitarist Dregen will have his first solo album released via Universal and distributed by Caroline. Titled simply 'Dregen', this 10-track release is a modern take on an era when rock music came ready-dipped in decadence and glamour; when the commercial and the credible could sit comfortably side by side; when albums were a great 35 minutes over 2 sides of vinyl rather than fleshed out with filler; when backing vocals were big & brash & (feather) boa'd; when heels & musicians were generally high; when emotion & entertainment were the driving forces, and when lifestyle was king…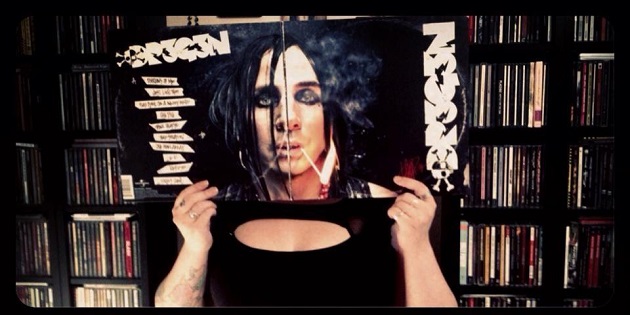 Produced by Dregen & Pär Wiksten (The Wannadies), this 10-track release – Dregen's first solo venture in a 25-year career that has seen him at the core of such internationally acclaimed acts as Backyard Babies & The Hellacopters – features all new material, and is a contemporary & inventive distillation of the Stockholm-based guitarist's far-reaching record collection.
As well as being a key and original member of both Backyard Babies & The Hellacopters, Dregen has also lent his skills to projects as diverse as Infinite Mass('70s-inspired, 'Scarface'-lovin' sleaze-funk), Supershit666 (spontaneous rock'n'roll distortion with various Wildhearts & Hellacopters keepin' the needle maxed) and Michael Monroe's touring & recording band (the sleeve concept for MM's forthcoming 'Horns And Halos' album is his, too), so it's no great surprise that the aforementioned collection is both lovingly-compiled and built on punk as much as rock, jazz as much as blues…
"Y'know, that was the hardest part," recalls Dregen. "I was staring at my records for over a year, thinking, 'How the f**k can I get the vibe from KISS, Slayer, theBeastie Boys and Miles Davis into one single record?' But I did it, and it sounds very much like me. It's a high energy rock 'n' roll album with the greatest songs I have written and recorded."
As for the musicians involved, Nicke Andersson (former Entombed mainman/drummer, co-founder of The Hellacopters and now the driving force behind Imperial State Electric) plays drums, bass & rhythm guitar on three tracks, where he also gets a co-write credit. Other featured musicians include drummer Karl Rockfist(Michael Monroe / Danzig), and bassists Sami Yaffa (Hanoi Rocks, New York Dolls, Joan Jett, Michael Monroe) & John Calabrese (Danko Jones), withDregen taking care of all guitar and vocal parts, and Danko Jones and Swedish female singer, Titiyo, adding occasional support at the mic…
"Something magic always happens when we play and write together. I don't know what it is, but there is definitely something special there.Nicke is one of my all-time favourite drummers, and we haven't really worked this closely since the early Hellacopters days…", Dregen reflects.
Recorded for the most part in Pär Wiksten's 'Hospital1' studio in Stockholm, with mixing handled by Michael Ilbert at the legendary Hansa Tonstudio in Berlin, these 10 tracks come in a variety of hues & colours, moods & textures, veering from hard-hitting blues ('Flat Tyre On a Muddy Road'), through sinewy, snake-hipped funk ('6-10') and onto kool, Kiss-inspired strut 'n' roll ('Mojo's Gone').
Like Dregen The Man, 'Dregen' The Album is hard to sum up in an easy phrase; what we have here is a multi-tiered collection of from-the-heart songs – songs packed with retro-chic, glam-rock glitter, and shapes 'n' sounds that are modern without chasing trend.
The track-listing is as follows:
1) Divison Of Me
2) Just Like That
3) Flat Tyre On A Muddy Road
4) Gig Pig
5) Pink Hearse
6) Bad Situation
7) One Man Army
8) 6-10
9) Refuse
10) Mojo's Gone
Dregen is currently assembling a touring band to take the above songs out on the road; no-one is 100 per cent confirmed as yet ("They'll be great musicians, though – promise!"), but it's likely that those selected will be charged to learn a few "rusty earrings" from the Dregen past, making this a rock 'n' roll show happy to celebrate glories past whilst still keeping both eyes squarely on the road ahead. And of course a tattooed, white-knuckle grip on the wheel.
European Co-headline tour with ISE in December!!!
DREGEN & NICKE ANDERSSON – PREMIER SWEDISH ROCKERS, BOTH WITH NEW ALBUMS, CONFIRM CO-HEADLINE EUROPEAN TOUR WITH THEIR OWN BANDS
1 Dec – Cathouse / Glasgow / Scotland
2 Dec – Borderline / London / England
3 Dec – Fleece / Bristol / England
4 Dec – La Boule Noir / Paris / France
5 Dec – Tivoli De Helling / Utrecht / Holland
6 Dec – Werkstatt / Cologne / Germany
7 Dec – Knust / Hamburg / Germany
8 Dec – Matrix / Bochum / Germany
9 Dec – Magnet / Berlin / Germany
10 Dec – Backstage / Munich / Germany
11 Dec – Komplex / Zurich / Switzerland
13 Dec – RnR Arena / Romagnano Novara / Italy
14 Dec – Rock Planet / Pinarella Ravenna / Italy
16 Dec – Razzmatazz / Barcelona / Spain (Dregen solo)
17 Dec – La Boite / Madrid / Spain (Dregen solo)
18 Dec – Kafe Antzokia / Bilbao / Spain (Dregen solo)
---
Don't forget to follow our Spotify Playlist: