HINDS Unveil Video for "Warts" and Announce US and European Tour
|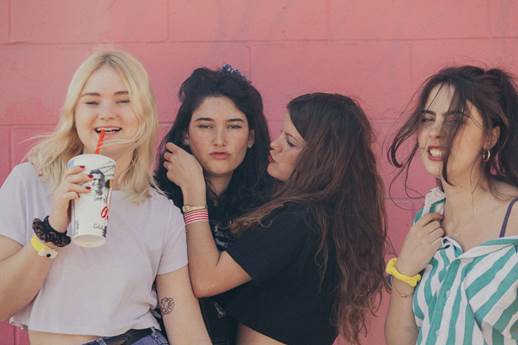 Hinds have unveild the video for "Warts", the fourth single to be taken from their critically acclaimed debut album "Leave Me Alone". The video is set in Barcelona, using the magnificent Walden7 building and the city's port as the backdrop, and was directed by Pedro Martin-Calero and produced by CANADA and Colonel Blimp. The brilliantly surreal and vibrant visual tells the story of a boy who is love with a girl that the band can see is no good for him, a femme fatale.
Discussing the video concept and song's lyrics Hinds ask "have you ever seen a couple that shouldn't be a couple? Have you ever seen your friend's girlfriend's warts before he does? In love like in war it aint no rules. And she knows. She knows it well… She is gonna beat him bad, but he only hears parabarabaraba"
Hinds continue to conquer 2016. Having just played a triumphant set at Glastonbury, the four-piece continue to play the very best festivals over the summer including Reading/Leeds and Bestival. Today they also announce their biggest UK shows to date for November and December, including London's 2300 capacity Forum and their first show in Ireland.
UPCOMING LIVE DATES:
14-17/7, Spain – Benicassim
22-23/7, Finland, Turku – H20 Festival
24/7, England, Sheffield – Tramlines
28/7, France, Port Grimaud – Plages de Rock
30/7, France, Cabourg – Mon Amour
31/7, France, Lille – Nuits Secrets
04/8, Spain, Santander – SM Festival
13/8, Austria, Wiesen – Summerville
19/8, Norway, Trondheim – PStereo
21/8, Germany, Hamburg – Dockville
24/8, Germany, Cologne – c/o Pop
26/8, England, Reading – Reading Festival
27/8, England, Leeds – Leeds Festival
01/9, Poland – Soundrive Festival
03/9, USA – Bumbershoot Festival
10/9, England, Isle of Wight – Bestival
16/10, USA, San Francisco – Treasure Island
17/10, USA, Santa Barbara – Velvet Jones
19/10, USA, Tuscon – Club Congress
20/10, USA, Phoenix – Valley Bar
21/10, USA, Los Angeles, -The Regent
22/10, USA, Santa Ana – Beach Goth
24/10, USA, Chicago – Thalia Hall
25/10, USA, Detroit – Pike Room
26/10, Canada, Toronto – Adelaide Hall
28/10, USA, New York – Warsaw
30/10, USA, Boston – Middle East
04/11, USA, Austin – Sound on Sound
19/11, Spain, Granada – Granapop
20/11, Denmark, Copenhagen – Vega
21/11, Denmark, Aarhus – Voxhall
22/11, Sweden, Stockholm – Debaser Medis
23/11, Norway, Oslo – Parkteatret
26/11, England, Manchester – Academy 2
27/11, Scotland, Glasgow – Saint Lukes
29/11, Ireland, Dublin – Dublin Academy
1/12, England, Bristol – Trinity
2/12, England, London – Forum
---
Don't forget to follow our Spotify Playlist: