Canadian Folklore Metallers Scythia to Release New Album 'Lineage' this May
|
The winter of 2013/2014 was a busy one for progressive power metal band Scythia. The Canadian quartet's lead single and music video from their previous album …Of Conquest, entitled "Bear Claw Tavern" instantly hit the web like wildfire. The video – described as a truly uproarious three-minute scorcher featuring Scythia rocking out in a medieval tavern filled with hooligans and mysterious characters – garnered over 50,000 views in less than a few days, inciting io9 to dub it "20 times better than The Hobbit".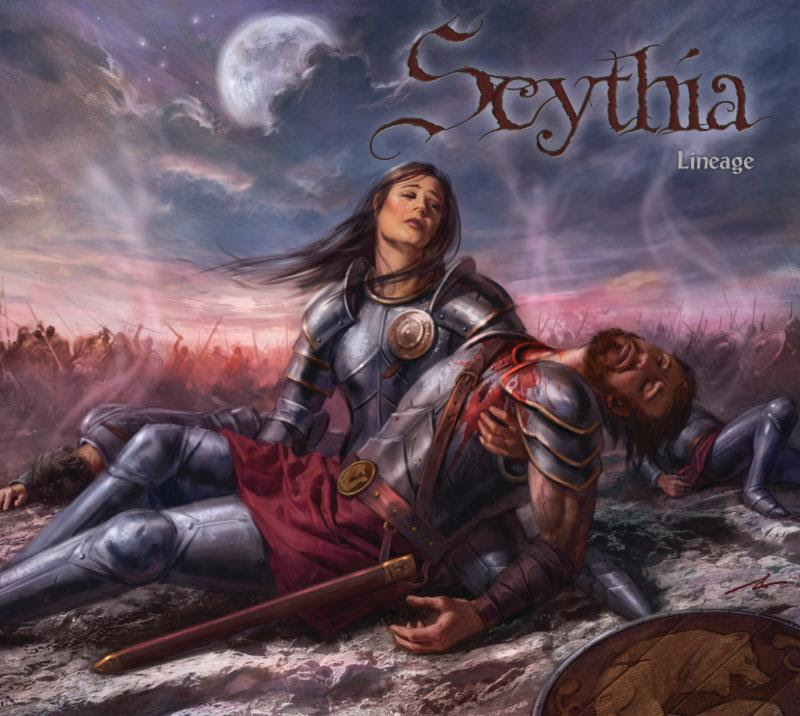 Now with heightened recognition on their side, Scythia are pleased to unleash their fourth independent full-length album, Lineage, set to release on May 4, 2016. Today, the band is previewing the record with a stream of their first single, entitled "Soldier's Lament".
"With Lineage,we feel that we've put our best foot forward and succeeded in delivering a follow-up to that progresses upon what we started with …Of Conquest," states guitarist and vocalist Dave Khan. "This new one is faster, heavier and SLIGHTLY more serious-toned but also more dynamic and original than its predecessor. This story will take the listener on a sonic voyage through peaks and valleys in true power metal style!"
Although the band self-produced the album, Lineage features engineering from Nino Laurenne (Firewind, Finntroll, Wintersun, Ensiferum) and Lasse Lammert (Alestorm, Gloryhammer, Powerwolf), and mastering from Svante Forsback (Rammstein, Volbeat, Firewind, Apocalyptica). Nino Laurenne is also responsible for mixing duties on the album. Lineage was recorded at LSD Studios in Lubeck, Germany and Sonic Pump Studios in Helsinki, Finland.
Scythia – Lineage Track Listing:
Eternal Oath
Laugh of the Tsar
Barbarian
Soldier's Lament
Loremaster pt. I
Loremaster pt. II
The Sacrifice
Lineage
2016 sees Scythia getting ready for more touring. So far, the band has six events booked in north-western Canada, including their official album release party on May 4th.
Scythia Canadian Tour Dates:
April 16 – Red Deer, AB @ The Vat
May 4 – Calgary, AB @ Dicken's Pub -Official Album Release Party
May 6 – Vancouver, BC @ Rickshaw Theater
May 7 – Edmonton, AB @ Starlite Room – Shredmonton Festival
Aug 19 – Edmonton, AB @ DV8
Aug 25-28 – Valemount, BC @ Metalocalypstick Festival
---
Don't forget to follow our Spotify Playlist: