Belk Announces 2016 Southern Musician Showcase Winners
|
Five bands with ties to the South received the surprise of a lifetime when Belk declared them winners of its 2016 Southern Musician Showcase during the competition's finale event held on March 19 in Charleston.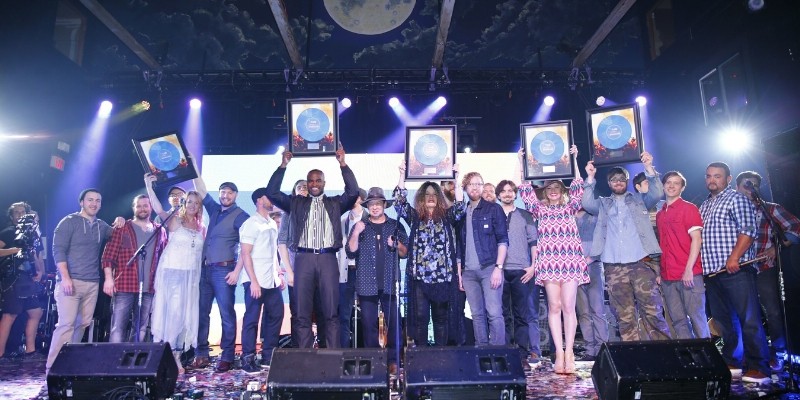 The five winners were selected from nearly 3,000 entries. Each will receive a cash prize as well as an opportunity to perform on Belk's Road South Tour with stops at major fashion, sporting and music events. Other prizes include a performance wardrobe provided by Belk, and an opportunity for the artists' songs to be featured in a Belk television commercial.
"Music is such an important part of Southern culture, so that's why Belk started the Southern Musician Showcase three years ago to celebrate the music and musicians that embody the Southern lifestyle," says Jon Pollack, Belk's executive vice president of marketing, sales promotion and eCommerce. "This year's winners are no doubt worthy of this recognition as all of them are amazing musicians who represent Belk and the South well."
2016 Southern Musician Showcase Winners
Blue Honey of Nashville, Tennessee
Genre: Americana
Blue Honey is a husband-and-wife duo that has been performing in country and Americana hot spots for years. Inspired by the sweet mix of soulful blues and stirring harmony, singers/songwriters Troy Brooks and Kassie Jordan chose a name that embodied their sound and spirit.
Kelsey Lewis of Fort Worth, Texas
Genre: Pop
Kelsey Lewis has been performing since she was six years old. Described as "Vintage Futuristic," the young songstress is known for her effortless ability to take the old and infuse it with the new.
Scott Ivey of Schertz, Texas
Genre: Pop Country
From playing youth groups in his high school rock band to worship pastor, Scott Ivey has embraced his passion for music and faith in his sound and spirit.
Jennifer B. and the Groove of Salem, South Carolina
Genre: Blues
Jennifer B. and the Groove exemplifies the soulful, gut-wrenching sound that defines the blues. Frontwoman Jennifer B. adds her rich, powerful voice and high-octane stage presence to the band's talent, which includes Nick Boettcher on guitar, Adrian Myers on drums and Dr. D on bass.
Joel Cross of Denton, Texas
Genre: Pop Soul
Joel Cross is a singer/songwriter best known for his amazing combination of soul, rhythm and blues. His silky smooth voice and phenomenal guitar skills perfectly capture the sound and spirit of the South.
The Southern Musician Showcase was open to solo artists and bands in the Americana, Bluegrass, Blues, Pop, Pop Country and Rhythm & Blues genres. Belk partnered with ReverbNation, and contestants submitted their profiles, including a collection of songs, a brief biography that detailed their affiliation to the South, head shots, a full length photo and a video. Fifty semifinalists competed in regional auditions in Atlanta, Georgia; Nashville, Tennessee; Austin, Texas and Richmond, Virginia.
---
Don't forget to follow our Spotify Playlist: