Peter Pan Speedrock will say farewell in 2016
|
An (inter)national farewell tour in 2016 will be the last chapter in the saga of the loudest band from the Lowlands. Dreams came true, goals were achieved, Peter Pan Speedrock had their say and left their mark, so the book may close. After twenty years it's time for singer-guitarist Peter van Elderen, bassist Bartmann and drummer Bart Nederhand to embark on newendeavors. Meanwhile the Dutch speedrockers take off again, for their Japanese tour starts on November 27.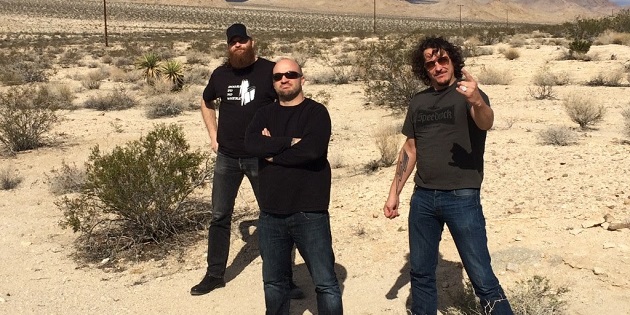 The farewell marks the end of an era, because Peter Pan Speedrock are more than a band. This force of nature is a counterweight for Holland's lack of earthquakes and hurricanes. Since PPSR arose from Eindhoven in 1996, the sonic landscape in the Netherlands has been shaken up and blown to smithereens. This relentless approach eventually gained PPSR worldwide recognition. Alas their rollercoaster ride will come to an end somewhere in 2016.
While they are flying to Japan, the three Lighttown diehards are probably reminiscing about a long and lively career. In 1996 they had a damn good feeling about the road ahead, but no-one foresaw it would lead Peter Pan Speedrock across the length and breadth of Europe numerous times, cut through by tours in America, Canada, Australia, New Zealand, Asia and Japan. To top it all PPSR instigated the grand slam of rock on Dutch soil: Speedfest. Last Saturday this annual internationalfestivalhalla celebrated its tenth anniversary.
With over 25 releases under their belt PPSR are still on top of their game: supercharging their own brand of rock & roll vigor and winning crowds over by playing scorching live shows. Initially they strived to play 2247 shows, as much shows as the Ramones, but the counter will stop at around 2000 shows next year. If that's the only unreached objective, it must have been a wild and wonderful ride. And the million visitors who witnessed PPSR live over the years will agree. Let's drink to that with some Speedrock Premium Heavy Lager. That's right, PPSR even have their own beer brand as part of their legacy.
No matter what the future holds, Peter Pan Speedrock shall ring on forever and a day!
---
Don't forget to follow our Spotify Playlist: