Soundgarden's Fan Created Book Photofantasm is Receiving Rave Reviews
|
Grammy Award winning Soundgarden (Chris Cornell, Ben Shepherd, Kim Thayil and Matt Cameron) is one of the last remaining titans and originators of daring and experimental rock music from the grunge era and Seattle music scene. Earlier this year, they were immortalized in a book that Los Angeles's premier rock radio station World Famous KROQ calls, "…an incredible piece of fan-created history.": Photofantasm Soundgarden: Nudedragons To King Animal.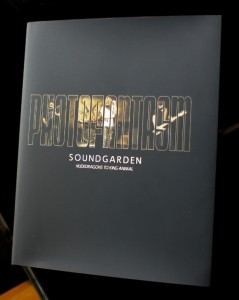 Reviews have been pouring in and the critics agree: Photofantasm Soundgarden: Nudedragons To King Animal is a triumphant achievement from the band's global fan base and will even be featured in the November issue of Rolling Stone Australia and upcoming holiday Gift Guides. Photofantasm can be purchased at http://photofantasm.com/ or click here to purchase your copy of the book, and is published by Spoondog Entertainment Group, LLC.
When Soundgarden abruptly disbanded in 1997, the future of the sonic goliath was unknown until their welcome – just as abrupt – surprise announcement on New Year's Day 2010 that they would reform. Or as was announced via Twitter: "Knights of the Soundtable ride again!" And so a new chapter in Soundgarden's already legendary story was waiting to be told!
With its foreword by Mark Yarm (author, Everybody Loves Our Town: An Oral History of Grunge), Photofantasm is the telling of that story and the passion project of two of Soundgarden's most ardent fans, Jaye and Mike English, who (along with hundreds of other fans and artists) decided to capture this latest chapter in the band's history – and with the band's approval. From their 2010 reformation as Nudedragons at a one-off gig to the Late Show With David Letterman, from the release of the retrospective album Telephantasm to Lollapalooza, from their first studio album in 16 years (King Animal) to touring the world once again through 2013, Jaye and Mike sourced fans from around the world to create this collaborative and visual narrative for Soundgarden fans, from the fans, and specially for the band. Compiled into a 592-page tome from over 300 contributors, Photofantasm is packed with personal recounts of experiencing Soundgarden live, stunning concert photography, set lists, reviews, original graphic art and official show poster art. Also included are interviews and quotes from rock music heavy hitters like William DuVall (Alice In Chains), Serj Tankian (System of a Down), Bill Kelliher (Mastodon) and more.
With only 1,000 limited edition copies printed, Photofantasm is 100% fan-created and is a collector's item in the truest sense. In addition to being a testament to the devotion that one band from Seattle has inspired, Photofantasm also exists in honor of a longtime Soundgarden fan that lost her battle with cancer. Her story, her love for the music and for meeting the band, culminates this extraordinary work as a testimonial to the power of music and net proceeds from the project will go to the Canary Foundation for early cancer detection solutions. October is the month for cancer awareness, it's important to remember net proceeds from this project will be donated to charity.
---
Don't forget to follow our Spotify Playlist: