LA blues musician Kirk Fletcher heading for European break through
|
"A perfect match!" that's the unanimous opinion of Klaus Steigmeier, breaking blues, and Dirk Osterhaus, m2 music, who signed a long-term collaboration agreement with Los Angeles-based blues musician Kirk Fletcher in Frankfurt in early October.
Following Josh Smith, Jeff Young and Grainne Duffy, this is the duo's fourth partnership. "We're thrilled at the opportunity of representing Kirk Fletcher, one of the most accomplished blues musicians of our time, throughout large parts of Europe. Kirk will be a great asset to our artist roster."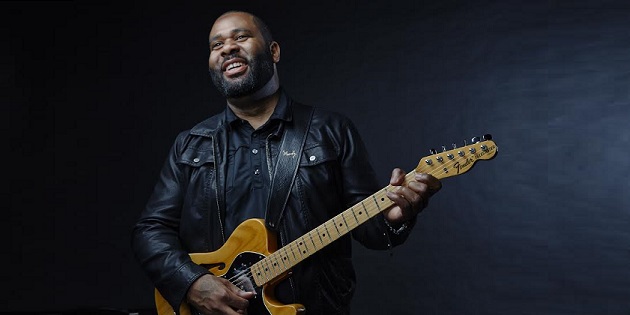 So everybody is delighted, and rightly so. After all, Kirk Fletcher is anything but an unknown quantity. Widely considered to be one of the best blues guitarists worldwide, he is a four-time Blues Music Award nominee and has worked with a wide range of international music luminaries, such as a four-year stint as lead guitarist of "The Fabulous Thunderbirds". Fletcher is also the frontman of his own band, with whom he has recorded three studio albums and one live release. Most recently, he joined Joe Bonamassa on his Three Kings Tribute tour in August 2015 and will play at the Dark Season Blues Festival in Spitsbergen together with Josh Smith on 23 and 24 October before going on to perform a number of concerts in Spain in November.
"Initially, we will focus on promoting Kirk's first official live album 'Burning Blues – Live at the Baked Potato, Los Angeles', which was released in the US at the end of last year," explains Dirk Osterhaus. But of course that's not all that Osterhaus and Steigmeier have in store for Kirk Fletcher. A number of festival appearances have already been lined up for summer 2016, followed by an extensive club tour in autumn 2016 and the release of Fletcher's eagerly awaited new studio album. "A perfect match!" for everyone and in every way– because this is a match made in heaven!
---
Don't forget to follow our Spotify Playlist: