Holiday Supergroup Band Of Merrymakers will release debut album
|
Sony Music Masterworks imprint Portrait Records signs the holiday supergroup – Band of Merrymakers. Band of Merrymakers, a rotating group of travelling troubadours, will release their debut album "Welcome To Our Christmas Party" on October 23, 2015. A donation will be made to MusiCares for every album and track sold.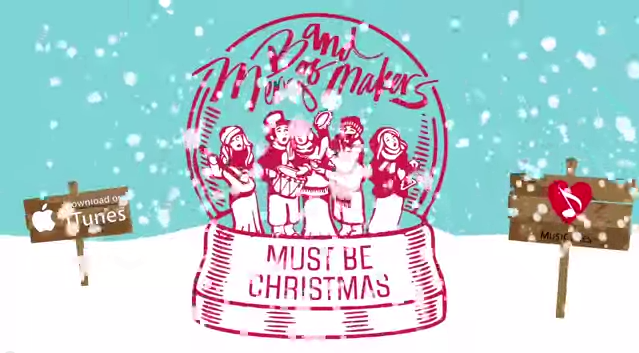 Led by hit songwriters/producers Sam Hollander (Train, One Direction, The Fray, Pentatonix) and Kevin Griffin (Taylor Swift, Sugarland, James Blunt, Howie Day…also of Better Than Ezra), the band features special guests: 3OH!3, Alex & Sierra, Andrew McMahon (Andrew McMahon in the Wilderness), Bebe Rexha, Charles Kelley (Lady Antebellum), Christina Perri, Dan Wilson (Semisonic), David Hodges (Evanescence), David Ryan Harris, Firekid, Jason Wade (Lifehouse), Mark McGrath (Sugar Ray), Michael "Fitz" Fitzpatrick (Fitz and The Tantrums), Natasha Bedingfield, Nick Hexum (311), Owl City, Sinclair, Smallpools, Streetcorner Symphony, The Grand Southern, The Mowglis and Tyler Glenn (Neon Trees)
Last year the band released the single "Must Be Christmas" along with a Santa flash-mob video. The new album will feature a mix of new holiday songs plus some old favorites.
Of the new album Hollander says: "Legend has it that Irving Berlin wrote 'White Christmas' at a La Quinta hotel in the California desert. Kevin and I attempted to channel his inspiration as we wrote and recorded our record in the blazing Hollywood summer heat. The process essentially consisted of us calling up our friends, family & colleagues and inviting them to pack up their acoustic guitars and join us by the campfire as we recorded in the sweltering sun, all with the spirit of the winter and festivity deep in our bones. We hope the joy is self-evident!!"
David Simone and Winston Simone at DSW Entertainment are the Executive Producers of the album.
---
Don't forget to follow our Spotify Playlist: