Ariana Grande Introduces Her First Fragrance
|
Actress and internationally acclaimed recording artist Ariana Grande announces her signature scent, ARI by Ariana Grande. The megastar's highly anticipated first fragrance, in partnership with LUXE Brands, is set to take over prestigious retailers globally this September.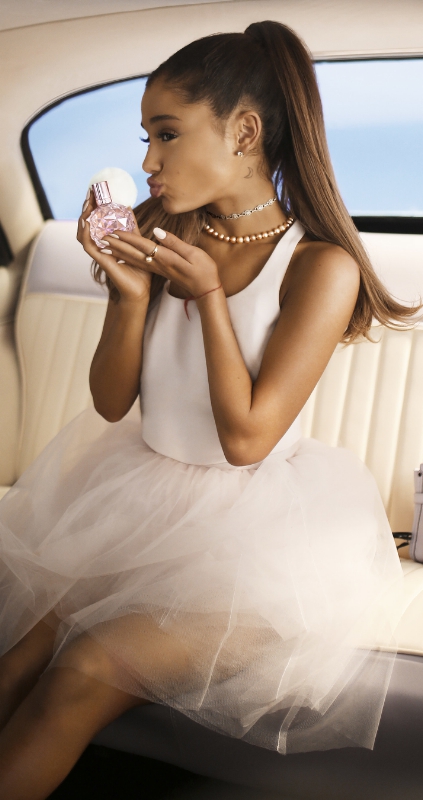 Grande's rise to success is marked with a double-platinum album, two Grammy nominations and the honor of having the most Top 10 singles in 2014. But it's her powerhouse vocals, genuine personality and distinct, unapologetic style that endear her to over 39 million Instagram followers and 31 million Twitter followers. Her confidence and willingness to share her passions with fans have made her one of the most influential musicians of her generation. With the release of her first-ever fragrance, ARI by Ariana Grande, she is poised to establish herself as a powerhouse in the beauty industry.
ARI by Ariana Grande is a genuine and intimate statement by Grande through scent, embodying her unique character and style. Hints of unexpected playfulness appear throughout the fragrance story, reminding fans to embrace their flaws and celebrate their differences. Personally crafted by the star, each element is authentically Ariana, captivating her flirty fashion sense, bubbly personality and energetic stage presence. With the launch of ARI by Ariana Grande, the starlet will share her individuality with her fans in a new way.
"I love fragrance, it is something I have been obsessed with all my life. As a fragrance debut of my very own, I really wanted it to be personal, that's why I named it ARI," says Grande. "I love everything about it. It is so fun and true to me. The scent is sweet, yet sexy, with some surprises underneath."
As an industry leader, the prestige beauty company LUXE Brands welcomes ARI by Ariana Grande as the first celebrity fragrance to join their portfolio of world-renowned beauty brands.
"We are thrilled to have partnered with such an influential and exciting artist like Ariana Grande; we confidently anticipate this will be one of the most successful launches in the company's history," says Tony Bajaj, president and chief executive officer of LUXE Brands.
Together, Designer Parfums and LUXE Brands will launch Ari by Ariana Grande concurrently in the U.S. and top international markets.
"We are very excited to be a part of Ariana's debut fragrance and we know it will resonate with fans worldwide," says Dilesh Mehta, chief executive officer of Designer Parfums.
THE FRAGRANCE
The luscious fragrance opens with a mixture of fruits inspired by Grande's effervescent personality. The bright top transforms into a feminine bouquet of soft flowers, unexpectedly spun with marshmallow, creamy musks and blonde woods, capturing Ariana's romantic and sensual nature.
Top
Crispy Pear, Pink Grapefruit and Juicy Raspberry
Heart
Soft Muguet, Rose Buds and Vanilla Orchid
Drydown
Marshmallow, Creamy Musk and Blonde Woods
---
Don't forget to follow our Spotify Playlist: