Kaleo returns with "Break My Baby – Live from Þrídrangar"
|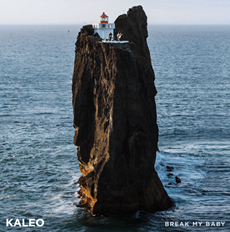 With additional music, content and news on the horizon, Grammy-nominated Elektra/Atlantic band Kaleo are readying their long-awaited return with the release of special live audio, along with a live music video, for their current single "Break My Baby," written solely by frontman, singer and songwriter JJ Julius Son. The album version from highly anticipatedSurface Sounds was delivered to Triple A Radio earlier this week, and to celebrate, the rock band has released "Break My Baby – Live from ÞRÍDRANGAR," an exclusive version recorded and filmed atop the iconic remote lighthouse in their native Iceland. Watch the video HERE and the track is available everywhere now.
"It's a privilege to be able to play at this rare location so few have visited," shares Julius Son. "We have wanted to do this for quite some time, but it requires the perfect weather conditions for safety, and we finally had the time needed back in our home country given the circumstances during the pandemic."
Filmed in the North Atlantic Ocean off the coast of Iceland, Kaleo performs "Break My Baby" at the Þrídrangar (three rock pillars) lighthouse. In 1939, three of the Westman Islands mountaineers built a lighthouse on the highest of the three rocks, climbing a 120-foot near-vertical cliff face, and stayed on the rock in tents for a month during construction. The lighting equipment was installed three years later, and on July 5, 1942, the lighthouse was completed. Exactly 78 years later on July 5, 2020, Kaleo made their way to the picturesque landscape to capture "Break My Baby – Live from Þrídrangar."
"It should speak so loudly being shot in one of the most isolated places in the world in the middle of pandemic," Julius Son continues.
"It was quite extreme and anything but easy using two generators behind the lighthouse to run electricity and a sound engineer inside the lighthouse for the live recording," Julius Son says. "We are thankful to the team that helped make this possible and are all excited to be releasing new music and fresh content finally this year."
"Break My Baby – Live from Þrídrangar" follows two additional live videos shot in a similar style featuring the natural landscapes of Iceland, such as the Double-Platinum "Way Down We Go (Live in a Volcano)" and "Save Yourself" from Fjallsárlón.
"Break My Baby" was released alongside "I Want More," which reached No. 6 on Billboard's Triple A Airplay chart. Both tracks were delivered as the first taste of new music since 2016's RIAA Gold-Certified A/B, with Loudwire calling "Break My Baby" "hooky and groovy, showcasing the range of [Julius Son's] vocal and a gritty, bluesy approach," while Texas Monthly praised "I Want More" as a "tender-yet-tough-anthem."
Following the dual release, Kaleo dropped "Alter Ego," which Julius Son calls "probably the most classic rock and roll song" on the album, and brooding ballad "Backbone."
After amassing over 2.5 Billion global streams, 39 international certifications and countless sold-out headline shows spanning from London to Moscow, Kaleo wrapped a nearly non-stop 3-year touring schedule in support of A/B in October 2018. Since then, Julius Son was in the studio through 2020 working on the highly-anticipated follow-up, due out later this year on Elektra/Atlantic, and every bit of that lived experience is packed into Kaleo's next big step: their sophomore album Surface Sounds.
That combination of globe-trotting and meticulous tinkering resulted in a spectrum of sounds recorded around the world – in North America, South America and across Europe. Refreshingly free of calculation, with Julius Son allowing each tune to dictate its path while simultaneously leaning-in to his blues, folk and rock inclinations.
The studio is a place Julius Son feels at home, fine-tuning his vision. "I've been writing the songs for such a long time and some of them I've lived with for a while," he says. "But for me, the recording process is challenging. Some songs, you come in and you know exactly what to do. But others, you need the freedom to explore and see what happens. Sometimes you have to go the wrong way before you can take the right direction."
---
Don't forget to follow our Spotify Playlist: