Chris Cornell To Release Higher Truth September 18
|
Multiple Grammy® Award-winning, Golden Globe Nominated and acclaimed singer and songwriter Chris Cornell will release his fifth studio album Higher Truth on Friday, September 18, 2015 via Universal Music Enterprises (UMe). Starting today fans can pre-order the deluxe version of the highly anticipated album, which contains four bonus tracks.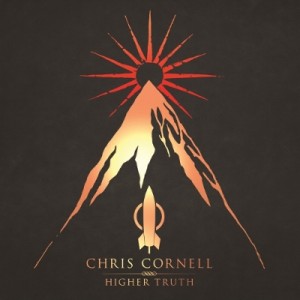 Produced by Brendan O'Brien (Bruce Springsteen, Pearl Jam, Neil Young), Higher Truth showcases Cornell's constant evolution as a master songwriter, lyricist and musical craftsman – telling human stories, which transcend musical genres. Inspired by the stark arrangements of musicians like Nick Drake, Daniel Johnston and White Album-era Beatles, Cornell creates a musical universe unlike anything he has done before.
"Nearly Forgot My Broken Heart," the first single from Higher Truth was premiered on Beats 1 / Apple Music on Tuesday, August 11th with Cornell sitting in on Zane Lowe's show for a discussion about the new single and album. Fans who pre-order the album on iTunes will receive "Nearly Forgot My Broken Heart" as an instant download. The lyric video for the song is directed by Josh Graham and beautifully reflects the essence of the song.
Cornell will kick off the Higher Truth acoustic tour on September 17th in Phoenix, AZ crossing North America before winding down on November 2nd in Austin, TX stopping at famed venues like the Walt Disney Concert Hall in Los Angeles, the Ryman Auditorium in Nashville, Massey Hall in Toronto and more. A full list of dates can be found below.
Chris Cornell – Higher Truth Tracklisting:
Nearly Forgot My Broken Heart
Dead Wishes
Worried Moon
Before We Disappear
Through The Window
Josephine
Murderer Of Blue Skies
Higher Truth
Let Your Eyes Wander
Only These Words
Circling
Our Time In The Universe
Bonus Tracks
Bend In The Road
Wrong Side
Misery Chain
Our Time In The Universe (Remix)
Tourdates
| | | |
| --- | --- | --- |
| ates:  | City: | Venue: |
| 9/17/15 | Phoenix, AR | Orpheum Theatre |
| 9/18/15 | San Diego, CA | Balboa Theatre |
| 9/20/15 | Los Angeles, CA | Walt Disney Concert Hall |
| 9/21/15 | San Pedro, CA | Warner Grand Theatre |
| 9/23/15 | Santa Barbara, CA | Granada Theatre |
| 9/24/15 | Santa Rosa, CA | Wells Fargo Center for the Arts |
| 9/26/15 | Oakland, CA | Paramount Theater |
| 9/27/15 | Modesto, CA | Gallo Center for the Arts |
| 9/29/15 | Seattle, WA | Benaroya Hall |
| 9/30/15 | Vancouver, BC | Orpheum Theatre |
| 10/2/15 | Denver, CO | Paramount Theatre  |
| 10/3/15 | Salina, KS | Stiefel Theatre for the Performing Arts |
| 10/5/15 | Minneapolis, MN | State Theatre |
| 10/6/15 | Chicago, IL | Chicago Theatre |
| 10/8/15 | Lakewood, OH | Lakewood Civic Auditorium |
| 10/9/15 | Toronto, ON | Massey Hall |
| 10/11/15 | Buffalo, NY | University at Buffalo Ctr for the Arts |
| 10/12/15 | New Brunswick, NJ | State Theatre |
| 10/14/15 | N. Bethesda, MD | Strathmore Music Theatre |
| 10/15/15 | Philadelphia, PA | Merriam Theater |
| 10/17/15 | Wilkes Barre, PA | Kirby Center for the Performing Arts |
| 10/18/15 | New York, NY | Beacon Theatre |
| 10/19/15 | New York, NY | Beacon Theatre |
| 10/21/15 | Boston, MA | Shubert Theater |
| 10/23/15 | Wilmington, DE | Grand Opera House |
| 10/24/15 | York, PA | Strand Capitol Perf. Arts Ctr |
| 10/26/15 | Atlanta, GA | Atlanta Symphony Hall |
| 10/27/15 | Nashville, TN | Ryman Auditorium |
| 10/29/15 | Miami, FL | The Knight Concert Hall |
| 10/30/15 | Saint Petersburg, FL | Mahaffey Theater |
| 11/1/15 | Dallas, TX | The Majestic Theatre |
| 11/2/15 | Austin, TX | ACL Live @ The Moody Theater |
---
Don't forget to follow our Spotify Playlist: