St. Germain is back after 15 years
|
St. Germain is back! 20 years after the release of 'Boulevard' and 15 years after his last album 'Tourist', the influential St. Germain is back with a new studio album, to be released on October 9, 2015. The first single is 'Real Blues'.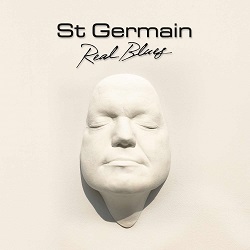 St. Germain (Ludovic Navarre) is a big name in the world of electronic music. He is a pioneer of the "French Touch" and the creator of intelligent, sensual and original deep house. His music is a subtle blend of electronics with live instruments, influenced by jazz and blues. These influences are combined with hypnotic electronic loops and harmonious vocals.
The new album is a colorful musical journey. For the album St. Germain worked with several African musicians.You can hear a lot of traditional African instruments like the kora, the balafon and ngoni. These are mixed with guitars, pianos, saxophones and electronic elements.
In 2000, St. Germain released the album 'Tourist' which includes the hitsingle 'Rose Rouge'. Worldwide, this album sold over 2.8 million albums. 'Tourist' has reached multi-platinum status in the Netherlands, New Zealand, Belgium and even the diamond status in France. He performed at the biggest venues including Coachella, Glastonbury and the Royal Albert Hall. In his home country he won three Les Victoires de la Musique Awards.
Tourdates
02.11.15 – BELGRADE – BELEXPO / JAZZ FESTIVAL
03.11.15 – BUDAPEST – CONGRESS AND WORLD TRADE CENTER
05.11.15 – WARSAW – STODOLA
10.11.15 – UTRECHT – TIVOLIVREDENBURG
11.11.15 – BRUSSELS – AB
12.11.15 – PARIS – BATACLAN
13.11.15 – ZURICH – KAUFLEUTEN
14.11.15 – LAUSANNE – LES DOCKS
17.11.15 – LONDON – TROXY
18.11.15 – LYON – TRANSBORDEUR
19.11.15 – MILAN – ALCATRAZ
20.11.15 – VIENNA – MUSEUMSQUARTIER
01.12.15 – MADRID – RIVIERA
02.12.15 – BARCELONE – RAZZMATAZZ
---
Don't forget to follow our Spotify Playlist: