Zappa alumni Ike Willis and Jeff Hollie touring Europe with European family ZAPPATiKA
|
In 1993, the world lost perhaps one of its most brilliant musicians of the last century. His name: Frank Zappa. Zappa was known to hire many known artists, record brilliant compositions, pay them decently and dismiss them just as quickly as they were hired. On that subject, we could see Zappa as one of the founders of the modern project thinking. Some musicians stuck, however. One of them: Ike Willis. He worked with and for Zappa over a period of 18 years and was pretty much Zappa's right hand throughout the last tours. At this moment, Ike Willis is touring Europe with ZAPPATiKA, together with his old colleaugue and good friend Jeff Hollie (who played saxophone on Zappa's album Joe's Garage)
Shortly after Willis and Hollie have landed in Amsterdam, we spoke with the two great musicians and you will immediately notice the cordiality and openness. "We are both an open book, so you can ask whatever you want," Willis starts and mutually the two old comrades crack an inside joke about a man named Bill Zaphod.

Ike Willis and Jeff Hollie have known each other for 40 years and met at the university in St. Louis, where Ike studied politics and law, while Jeff studied English literature. As Jeff was a big fan of Frank Zappa, it was Ike who first who was first admitted to the band around the famous musician. Willis was an exception in the group of musicians around Zappa. "Frank took musicians, good musicians, one by one. But with the record finished, he fired them again, even though every one of them got along with Frank. It was just business: Frank had something in his head and looked for the musicians that fitted with it. Nothing personal," says Willis. Jeff confirms, "Yes, as the band was a five piece band at times, other times 12. When Frank needed three guitarists, he'd hire three guitarists. Then, while focussing on a next project, with less guitars, he'd let two of them go."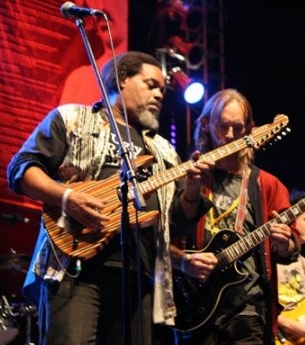 Zappa's lyrics were often politically oriented and not at least to make his fans think. Willis, who studied politics and law, often agreed with Zappa. "At rehearsal, Frank always brought in the newspapers and threw them on the table. We discussed the worries of the day, and shone our lights on the political articles. That was actually always in the beginning of a rehearsal. We played something and Frank always used some of the texts in the papers for his own lyrics, but clearly with his own vision poured over it. "The album Frank Zappa Meets The Mothers Of Prevention 'is perhaps the most obvious example.
After Zappa's untimely death, Zappa alumni scattered themselves all over the globe to honor Zappa's music. "It's Frank's legacy we're playing," said Willis, "Frank clearly said before he died, that he hoped that we would fulfill his wish." And so, Ike Willis played all over the world with his tribute to Zappa. "I have 12 bands in the world where I play, including Bogus Pump, Issi Duri, Ugly Radio Rebellion, The Muffin Men, The Central Scrutinizer Band and the Dutch ZAPPATiKA. I do not play with them, I play in those bands. I consider them as my bands. It is family to me. When I am in the Netherlands, I sleep with them, I watch TV with them, we drink coffee together, we talk and we drink. Just as everyone does with his family. I can not do without them, I love them!"
It was Willis who brought the 1988-tour group together again in 1994 for a brief reunion. "Bringing together eleven or twelve men was great fun. It was a few months after Frank had passed away, and it felt good. We played a bit and decided to go for it and and carry out Zappa's legacy." And that's what they did, Willis paramount.

This time, Willis will come to play with ZAPPATiKA, the band saxophone player Jeff Hollie already is part of. Which is not unusual. "Oh yeah, I love touring with Zappa's music!" Together they join forces for the next few days and will be performing in Zoetermeer, Paris, Corby and Liverpool with Ike's Dutch family: ZAPPATiKA. "We're are really looking forward! Besides that they are all very nice guys, I have been playing with them for years, now; they are very good musicians, and play the music of Zappa as it should be played. They really carry out Frank's legacy! "
---
Don't forget to follow our Spotify Playlist: