Norwegian Karin Park to release new album
|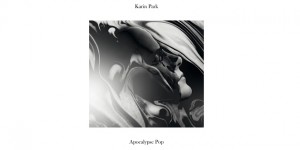 Since her last studio album "Highwire Poetry" in 2012, Karin has expanded her raw talents even further from her original electro-pop persona down into darker territories. New album 'Apocalypse Pop' delivers just that; gloriously catchy rock-pop-synth tracks laced with deep personal lyrics.
"I don't want forgiveness there's no-one to blame, like a moth to a flame"
– 'Daemons'.
Karin seems to tell a story from start to finish. Every track feels like a statement and she cleverly accompanies them with a magical combination of sultry beats, buoyant drums, delicate piano, and dabbles with a touch of electronica.
With titles such as "Life is Just a Dream", "Shake With The Devil", "Opium", and "Look What You've Done", the 'apocalypse' narrative is present throughout. Each track boasts solo personality going from strength to strength with every listen, teamed together they create a melodically brilliant collaboration of Karin's effortless vocals and talent.
The individual and intimate nature of the tracks enables an instant connection boldly exposing Karin's torments, "she was the breath of air you needed to feel, whilst I was just the water on your wheel" – 'Stick to The Lie'. She continues to use the sonic form to express her emotion and reflect her pain, particularly in 'Human Beings', which was inspired by her partner's battle with cancer. Hypnotic top lines against an almost cinematic backdrop of dark layered percussion and orchestral arrangement create a poignant landscape and a real glimpse into her soul. "When the tears are running from your face, I'll put you out of your despair". This track will also be the next single to be released from the album, due to be released as a double A side along with the seductive, basey-rock of "Life Is Just A Dream", a track that embodies the ferocious side of Karin's persona with its visceral drums and an addictive melody that lingers in your head long after listening.
Karin stands apart from other pop artists doing her music her way, the attitude in her voice screams passion and drive yet she sings with an air of untroubled content. Technically her edgy vibes shouldn't work as a pop artist and in so many ways she isn't. But the relation between lyrics, vocals, and beats make "Apocalypse Pop" undeniably addictive.
However it isn't solely Karin who makes this album a success. Her ability to melt easily with other talent creates a recipe for magic as seen on track "Hurricane", featuring renowned film maker and photographer Thomas Knights, the exploration of emotive sound meanders down the alleyways of deep dark dance.
Continuing to create songs that can be released aside of an album, Karin flitters between genres throughout "Apocalypse Pop". We see a variation of different themes, from dance-synth-vibes on "Whipped Cream", to progressive, animalistic, bangra influences on "Hard Liquor Man'.
On "Let My Love Shine", it's Karin's vocals and lyrical partnership that endeavor to carry the difference in tone from each track. Playfully experimenting with steel drums it leaves you relaxed at the end of an exclusive journey through Karin Park's mind.
"Let my love shine into the blackness of your eyes, at night when you wake up and your heart is running wild, you'll be alright."
"Apocalypse Pop" will be released March 30th 2015.
---
Don't forget to follow our Spotify Playlist: