The Kooks (Heineken Music Hall – Amsterdam, 31-01-2015)
|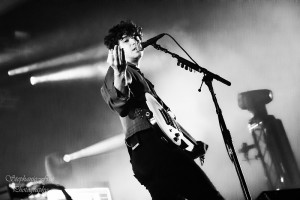 It is a great evening for Dutch band Sunday Sun, because they get to open for The Kooks. They stand all togther in one line. First Jan Teertstra on Bass, I quote "He looks like a professor, but a cute one". Next to him is Yoshi Breen on electric guitar, Koen-Willem Toering also on electric guitar and Nicky Hustinx on drums. The guitar players all play keys aswell and all three sing. 'Come On Down' is an instand dance hit and the second song 'I Saw You With Another Guy' has a sixites popsound with surprising changes making it a super fun song. 'Sunday Moring' is yet again a catchy song that everybody can sing along even if it is the first time you here it. They don't need backing vocals, that job is for the audience.
'I Call You Honey' is a hit right now in the Netherlands so we all singalong. The men ask for a little help with the last song. We are asked to act as if The Kooks come on stage, screem and cheer as loud as we can. Well we Dutchies love to help and the whole HMH goes mental. They di dan awesome job and hopefully Sunday Sun will headline in a big venue as this in the near future.
After a long wait The Kooks are finaly back on tour through Europe and their first gig is in Amsterdam. Although the venue isn't sold out the HMH is packt and there are even fans that came all the way from Germany. They start the evening with the first song of Listen what came out September last year. 'Around Town' is a great starter, this hit helps everybody to get loose and dance. The second song is intantly recognised, not that strange because it is one of their biggest hits of the first album 'See The World'.
The audience is doing a great job singing along with 'Ooh La' whitch receives a Thank you from Pritchard. Prior to 'It Was London' Pritchard speaks to his audience "We don't know what life is, but it's great to be alive innit?" Not a word lied, life is great when you are having fun and that is something the men so obviously show us. This is the first show of the european tour after Australia and it shows that they had a little break. Luke Pritchard pronunciation is good, where he can mumble on festivals and doesn't finish his words we can now follow everything he is saying. But the best thing to see is that the have fun on stage. Pritchard often stands with the other bandmembers and shows off with his awkward dancemooves. Where they would seem weird on others it just suits him, hipthrusts, bootyshaking, flapping arms and shaky legs he doesn't mind how he looks on stage.
We get to see all these mooves in the nest song that according to the singer we all know. And yes indeed, we all sing along with 'Bad Habit'. This song also gives the opportunity for Peter Denton and Hugh Harris to switch places, when on stage you of course want to see the other side of the audience. Back on their own place the maraca appear for 'Down'. For many among us who can't stand still an awesome song. All elements of the track work, catchy gitarplay, great bassline and even the drum sounds funky. The long intermezzo isn't that annoying at all.
It is time for an old song and as Pritchard says "We know you got beautiful voices, so help yourself". This invite to sing-along ia happily accepted and everybody goes wild to 'She Mooves In Her Own Way'. There is a wonderful transition to 'Eddies Gun' after which the band get's a little break. Solo with an acoustic guitar we hear a gorgeous version of 'Seaside'. The audience take it all in and there are even some tears.
"I like to play an acoustic version of a song of our last album, Dreams." For the first time the HMH is completely quiet, if it is because not everyone knows this song or because it is a beautiful song, the audience loves it.
The whole band get's back on stage and it is obvious they all like to play this song. 'Westside'is started with a massive bassdrum, the mikestand is set aside because it is time to dance. After this we are asked if we are ready. And ready we are. 'Sweet Emotion' is recognised right away, just as the next song 'See Tthe Sun'. 'Sofa Song' is just as the other songs from the first record a hit that makes everybody jump.
"How are you feeling? I'm feeling a bit depressed. Nah, I'm only joking" jokes Luke "I feeling fucking great!" It is the last song before the break. 'Forgive & Forget' makes the hips moove and Pritchard runs all over the stage to make contact with everybody in the audience.
For the first time we see the singer behind the piano fora n emotional 'See Me Now', the song he wrote for his dad. We can see that this song still mooves him and undoubtedly some in the audience, me aswell that has to wipe away a couple of tears. Halveway trough the song the band joins in and makes it fuller. During 'Junk Of The Heart (Happy)' notes are held up in the air with the tekst: You sure make us feel happy and alive! This is the only song of the alum Junk Of The Heart but according to the audience a song that was a must play, everybody goes wild.
"You are beautiful, always a pleasure being here! We have been The Kooks, see you soon!" and with the ultimate jumpsong the evening is ended, 'Naive'.
All in all it was a very succesfull night. The band was excited and translated this to a perfectly played set, interaction with the audience and crazy dancemooves. The lights weren't that spactacular, but the 7 screens on stage made up for that. The images corresponded to the songs and where needed Luke was on screen.
Photo's (c) Stephanie Free
 

Feb 02

Stadthalle

Offenbach Am Main, Germany

 

 

Feb 03

Tonhalle

Munich, Germany

 

 

Feb 05

Alter Schlachthof

Dresden, Germany

 

 

Feb 06

Sporthalle

Hamburg, Germany

 

 

Feb 07

Columbiahalle

Berlin, Germany

 

 

Feb 09

Munchenbryggeriet

Stockholm, Sweden

 

 

Feb 10

Sentrum Scene

Oslo, Norway

 

 

Feb 12

Ringlokschuppen

Bielefeld, Germany

 

 

Feb 13

L'Autre Canal

Nancy, France

 

 

Feb 14

Cirque Royal

Brussels, Belgium

 

 

Feb 16

Bikini

Toulouse, France

 

 

Feb 17

Olympia

Paris, France

 

 

Feb 18

Palladium

Cologne, Germany

 

 

Feb 19

L'Aeronef

Lille, France

 

 

Feb 21

Transbordeur

Lyon, France

 

 

Feb 22

Fabrique

Milan, Italy

 

 

Feb 23

Les Docks

Lausanne, Switzerland

 

 

Feb 27

Oympia Theatre

Dublin, Ireland

 

 

Feb 28

Olympia Theatre

Dublin, Ireland

 

 

Mar 01

Mandela Hall

Belfast, United Kingdom

 

 

Mar 02

O2 Academy

Glasgow, United Kingdom

 

 

Mar 12

Festival Estereo Picnic (12th-14th)

Bogota, Colombia

 

 

Mar 14

Lollapalooza Chile (14th-15th)

Santiago, Chile

 

 

Mar 16

Sala Omnium

Santiago, Chile

 

 

Mar 19

19th-20th Asuncionico

Asuncion, Paraguay

 

 

Mar 21

Lollapalooza Argentina (21st-22nd)

Buenos Aires, Argentina

 

 

Mar 26

Pepsi On Stage

Portalegre, Brazil

 

 

Mar 28

Lollapalooza Brazil

Sao Paulo, Brazil

 

 

Apr 05

Paaspop

Schijndel, Netherlands

 

 

Apr 21

Pepsi Center

Benito Juarez, Mexico

 

 

Apr 22

Teatro Estudio Cavaret

Guadalajara, Mexico

 

 

Apr 24

P'al Norte Festival

Monterrey, Mexico

 

 

Apr 26

House of Blues

Houston, TX

 

 

Apr 28

Emo's

Austin, TX

 

 

Apr 30

The Pageant

Saint Louis, MO

 

 

May 02

Vic Theatre

Chicago, IL

 

 

May 03

Newport Music Hall

Columbus, OH

 

 

May 05

Exit/In

Nashville, TN

 

 

May 07

Ziggy's By The Sea

Wilmington, NC

 

 

May 08

Shaky Knees Festival

Atlanta, GA

 

 

May 10

House of Blues

Boston, MA

 

 

Jul 04

Siestafestivalen

Hassleholm, Sweden
---
Don't forget to follow our Spotify Playlist: