January 27, Bobby Hutcherson's birthday
|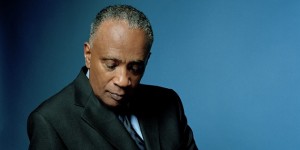 Today, January 27, marks the 74th birthday of jazz vibraphonist and marimba player Bobby Hutcherson. Born in Los Angeles in 1941, Hutchinson was first introduced to the world of jazz by his brother, who introduced him to some Art Blakey recordings. When his older sister sang in Gerald Wilson's orchestra she introduced her brother to Eric Dolphy and Billy Mitchell. Milt Jackson's playing on Miles Davis' album 'Miles Davis and the Modern Jazz Giants' caused the then young Hutcherson to start playing the vibraphone. He began his professional career when he teamed up with Curtis Amy and Carmell Jones.
After Hutcherson signed with Blue Note, his career took off like a space rocket. He played with legendary names, such as Freddie Hubbard, Donald Byrd, Woody Shaw, Eddie Henderson, Sonny Rollins, Dianne Reeves, Dexter Gordon, Herbie Hancock, Joe Sample, John Hicks, George Cables, Roy Haynes and Tony Williams. In 2010, Hutcherson has rightly chosen as a NEA Jazz Master.
Happy birthday, mr. Hutchinson. And many happy returns!
---
Don't forget to follow our Spotify Playlist: