Black Crowes call it quits
|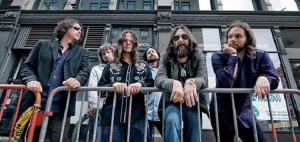 The rockband The Black Crowes has broken up. A business disagreement has made the bandmembers decide to spit up. Guitarplayer Rich Robinson has stated this in a press release.
A plan to redistribute the shares within the band has led to the break between the brohers Rich and Chris Robinson. "I love my brother and respect his talent, but his present demand that I must give up my equal share of the band and that our drummer for 28 years and original partner, Steve Gorman, relinquish 100 percent of his share, reducing him to a salaried employee, is not something I could agree to."
In 2011 the brothers previously decided to temporarilly stop and gave amonst others a goodbye concert in a packed Paradiso Amsterdam. In 2013 they wanted to try again but now it shows that the differences (businesswise) are to big to continue.
---
Don't forget to follow our Spotify Playlist: