Insanity Reigns Supreme: 'Unorthodox' Cover Artwork, Track Listing Revealed
|
Belgian black death metal veterans INSANITY REIGNS SUPREME will release their fourth studio album, "Unorthodox", on January 16th via Shiver Records. "Unorthodox" – the fourth full length album from Belgian cult pact Insanity Reigns Supreme – marks a new chapter of total darkness in the already 25 year long career of the band.
The follow-up to 2009's renowned opus "Occultus Insanus Damnatus" excitingly combines furious black- and deathmetal with the funeral grimness of doom, that continues to surprise and intrigue the listener in many ways.The duality of human nature and its macabre consequences form Unorthodox's central theme.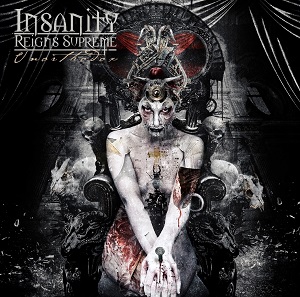 The album's stunning artwork – designed by Septic Flesh frontman Seth Siro Anton – and haunting lyrics expose the beast that lives inside all of us. The slipcase version of the album further visualizes man's grim reality with its two different covers, hidden details and subtle hints.
Seth Siro Anton had the following to say: "It's always a dark pleasure to work with Insanity Reigns Supreme. Whilst working on this project, it is without a doubt one of most bizzare artworks I have ever created, while I was trying to explore the great beauty of Grotesque in Dark Art"
"Unorthodox" was recorded at the Stage One Studios in Germany with Andy Classen, best known for his work with Belphegor, Legion of the Damned and Destruction.
Insanity Reigns Supreme had the following to say: "Work in the studio has never been this intense and needed full input and drive from every band member to pull it off. Andy drove us to our limits and the end product clearly shows this intensity".
"Unorthodox" track listing:
01. The Conjuring
02. Ov Fire
03. Throne of One
04. Torment
05. Moonlight Sacrifice
06. By the Blood of the Beast
07. Cursed be the Faithful
08. The Calling
09. Opposer
10. Satanas Rex Inferis
11. Serpent Ov Fire
---
Don't forget to follow our Spotify Playlist: