Neurotic Deathfest announces Hate Eternal, Devourment​, Broken Hope and many more
|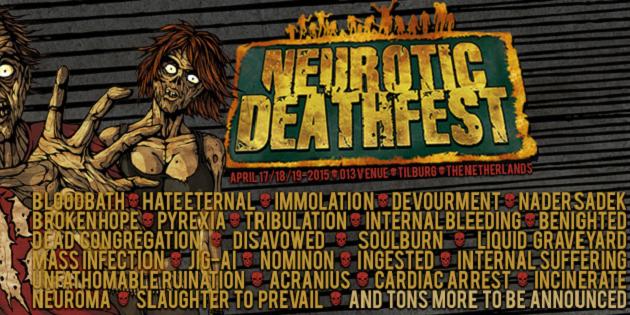 Europe's premier indoor extreme metal festival, Neurotic Deathfest, has announced new names for the 2015 installment, set to take place at 013 venue in Tilburg, Netherlands on April 17-19, 2015. Eleven new acts are confirmed, including Hate Eternal, Devourment and Nader Sadek. The organization earlier confirmed heavywheight acts such as Bloodbath and Immolation. Tickets are available through neuroticdeathfest.com.
Helmed by founder, guitarist/vocalist, primary songwriter and acclaimed producer Erik Rutan, Hate Eternal has been one of the leading bands in the worldwide death metal scene for over eighteen years. With a new album coming up, their performance at Neurotic Deathfest will be among the first in Europe since years.
Earlier this year death metal's most brutal band Devourment have announced a major line-up change that sees the band regressing to the sewage from which they were originally conceived. Singer Ruben Rosas is known by true death metal aficionados to tout some of the lowest, sickest growls on the planet. Neurotic Deathfest is proud to announce Devourment will be performing at Neurotic Deathfest 2015.
Nader Sadek is the brainchild of the Egyptian-born, New York-based conceptual artist Nader Sadek., known for his impressively twisted sculptures, masks, and installations used for example by bands such as Mayhem and Sunn O))). The band emerges out of a collaboration between Sadek and some of extreme music's most talented artists. Neurotic Deathfest is very honoured to confirm Nadar Sadek, as live performances of this band are very rare and exclusive. The band's impressive line-up at the festival: Travis Ryan (Cattle Decapitation), Rune Eriksen (Aura Noir, ex-Mayhem), Bobby Koelble (ex-Death), Martin Rygiel (ex-Decapitated), Flo Mounier (Cryptopsy) and Carmen Simoes (Moonspell).
The new bands confirmed for Neurotic Deathfest 2015 are:
Hate Eternal (USA)
Devourment (USA)
Broken Hope (USA)
Nader Sadek (USA)
Pyrexia (USA)
Internal Bleeding (USA)
Dead Congregation (GR)
Mass Infection (GR)
Ingested (UK)
Acranius (GER)
Slaughter To Prevail (RU)
---
Don't forget to follow our Spotify Playlist: