Newly Remastered 20th Anniversary Deluxe 12″ 180-gram Vinyl of the Dave Matthews Band
|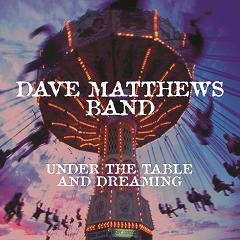 Legacy Recordings, the catalog division of Sony Music Entertainment, will release a newly remastered 20th anniversary 2LP 12″ 180-gram limited edition vinyl of Under The Table And Dreaming, the 1994 major label debut from the Dave Matthews Band, on Monday, November 24.
Under The Table And Dreaming has been remastered from the original flat analog tapes and cut from new lacquers, prepared by Chris Bellman at Bernie Grundman Mastering. The album will be available – for the first time ever – in a 2LP 12″ 180-gram limited edition vinyl version featuring an eight-page book packed with previously unpublished photographs of the band in a limited, numbered gatefold jacket.
The 20th anniversary limited edition vinyl also includes a download card featuring the remastered original album plus three unreleased bonus tracks, including the original studio version of live favorite, "Granny" and intimate acoustic versions of "Dancing Nancies" and "The Song That Jane Likes." The remastered edition of Under The Table And Dreaming, plus bonus tracks, will also be released on CD in a softpak.
Legacy Recordings is also set to release an individually numbered, limited 10″ vinyl edition of the Dave Matthews Band, Recently EP for Record Store Day Black Friday, November 28, 2014. This first-ever vinyl release of Recently includes the full original EP and the rare "Pumpkin Recently" promo, as well as a download card for both versions.
Originally released on RCA Records on September 27, 1994, Dave Matthews Band's Under The Table And Dreaming introduced the Virginia-based quintet to a national audience with an alternative, folk-tinged approach to pop/rock music that resonated in a post-grunge world.
Earlier this year, Bama Rags/RCA/Legacy Recordings commemorated the 1993 debut of Dave Matthews Bands' Remember Two Things with the first-ever 12″ vinyl release of the DMB's first "official" record.
The Virginia-based Dave Matthews Band—singer/guitarist Dave Matthews, drummer Carter Beauford, saxophonist LeRoi Moore, violinist Boyd Tinsley and bassist Stefan Lessard—earned early acclaim as independent artists for Remember Two Things, which captured the band's diverse sound in a mostly live setting. The group's impressive fan base led to a deal with RCA Records, who paired them up for their first studio album with acclaimed producer Steve Lillywhite, whose eclectic work included collaborations with U2, The Rolling Stones, Peter Gabriel and The Pogues.
Lillywhite's crisp approach in the studio was an intriguing complement to the band's loose and easygoing but intricately-arranged song styles, making for an album that satisfied longtime fans while attracting new listeners. (Lillywhite would produce the band's next two albums and reunited with DMB on 2012's Away From The World.)
New studio recordings of "Ants Marching" (their first Top 40 hit) and "Satellite," heard in live form on Remember Two Things, remain highlights, along with the spirited lead single "What Would You Say" (powered by a harmonica solo from John Popper of Blues Traveler and a colorful, Grammy Award-nominated video that earned heavy rotation on MTV) plus live favorites "Jimi Thing," "Dancing Nancies" and "Typical Situation." Ultimately, the album was certified six times platinum by the Recording Industry Association of America and remains one of the band's most beloved studio releases.
UNDER THE TABLE AND DREAMING TRACK LIST:
The Best Of What's Around
What Would You Say
Satellite
Rhyme & Reason
Typical Situation
Dancing Nancies
Ants Marching
Lover Lay Down
Jimi Thing
Warehouse
Pay For What You Get
#34
Granny (unreleased studio track)
Dancing Nancies (Acoustic) (unreleased studio track)
The Song That Jane Likes (Acoustic) (unreleased studio track)
RECENTLY TRACK LIST:
LP 1: Original EP
Recently (Edit #2)
Dancing Nancies
Warehouse
All Along The Watchtower
Halloween
LP 2: Promotional EP
Recently (Radio Edit)
Ants Marching (Radio Edit)
Tripping Billies
The Song That Jane Likes
---
Don't forget to follow our Spotify Playlist: