Celebrate the Season with Holiday, the First-Ever Earth, Wind & Fire Holiday Album
|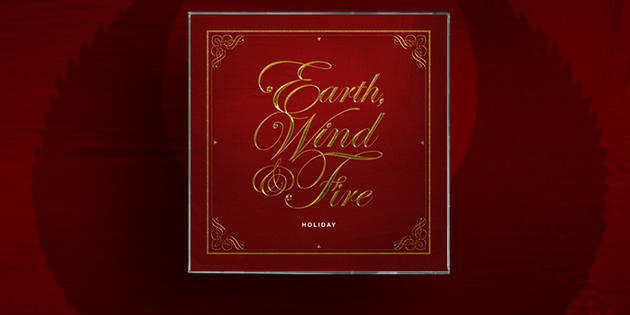 Legacy Recordings is proud to announce the release of Holiday, the first-ever holiday album from the legendary Earth, Wind & Fire on Tuesday, October 21. Holiday is a spirited celebration of the holiday season, bringing together brand new recordings of seasonal standards ("Winter Wonderland," "The Little Drummer Boy," "Sleigh Ride," "Jingle Bell Rock"), beloved carols ("Joy to the World," "Oh Come All Ye Faithful," "What Child Is This?," "Away in a Manger," "The First Noël"), a traditional Japanese winter song ("Snow"), a modern day Christmas song ("Every Day Is Like Christmas") and future Earth, Wind & Fire classics: "Happy Seasons" (inspired by "Happy Feelin'), and "December" (inspired by "September") featuring original vocals from Maurice White.
Lead vocalist and Earth, Wind & Fire co-founder Philip Bailey says, "This album is the band's first and only holiday music project. We are very proud to offer it as a labor of love to all of our fans and soon to be. Enjoy and happy holidays from our families to all of yours."
"The Holiday album was a joy to record, it is a celebration of tradition, love and spirituality, some of the elements of Earth, Wind & Fire. From our families to yours, we wish you a happy holiday", said EWF's co-founder Verdine White.
Produced by Philip Bailey and Myron McKinley (the band's Musical Director), Holiday is Earth, Wind & Fire's 21st studio album and second for Legacy Recordings. Now, Then & Forever, the group's first new album for the label and first new studio material since 2005, debuted at #11 on the Billboard 200 upon its release in September 2013, marking the band's highest-charting album since Raise! hit #5 in 1981.
Earth, Wind & Fire
Holiday
1. Joy to the World
2. Happy Seasons
3. Oh Come All Ye Faithful
4. Winter Wonderland
5. What Child Is This?
6. Away In a Manger
7. The Little Drummer Boy
8. Every Day Is Like Christmas
9. The First Noël
10. Sleigh Ride
11. Snow
12. Jingle Bell Rock
13. December
---
Don't forget to follow our Spotify Playlist: