LG To Present Tony Bennett And Lady Gaga 'Cheek To Cheek LIVE!' Concert
|
Advancing its status as the leader in Ultra High Definition TV, LG Electronics USA revealed today that it will present the highly anticipated "Cheek to Cheek LIVE!" concert performance by Tony Bennett and Lady Gaga in 4K Ultra HD resolution – four times the resolution of Full HD – when it debuts this fall. This announcement coincides with today's long-awaited release of their "Cheek to Cheek" album.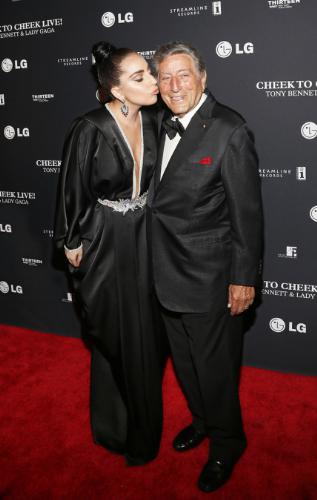 The once-in-a-lifetime musical experience was captured this summer in stunning Ultra HD at Jazz at Lincoln Center's Frederick P. Rose Hall in New York in front of a live audience of fans and invited guests. Thanks to LG Electronics, the official Ultra HD sponsor of "Cheek to Cheek: LIVE!," Amazon Instant Video customers will be able to stream the performance in the highest resolution at no added cost when it becomes available later this year. Produced by THIRTEEN Productions LLC for WNET, the high-definition version of the concert, "Tony Bennett & Lady Gaga: Cheek to Cheek LIVE!" will also air nationwide on "Great Performances" series on PBS.
This landmark television event, the world's first concert to be streamed in Ultra HD, cements LG's role as a driving force behind the exploding market for 4K Ultra HD TVs in the United States and around the globe. With LG 4K Ultra HD TVs, consumers have the sharpest, most detailed picture possible – a welcome boost for today's larger displays– and one of the widest selections of models in various screen sizes and prices.
Fans enjoying this concert, which features classic songs from Tony Bennett and Lady Gaga's new album of jazz standards, "Cheek to Cheek," on LG 4K Ultra HD TVs equipped with the intuitive new LG Smart TV+ webOS™ connected TV platform will see such detail that they feel like they are watching from the front row at Lincoln Center.* To bring the viewing experience full circle for music aficionados, select high-end models in LG's Ultra HD line-up boast a high-performance harmon/kardon-designed audio system.
"We couldn't think of a better way to enhance the LG 4K Ultra HD experience than by teaming up with Amazon and such iconic and such extraordinary performers as Tony Bennett and Lady Gaga," said David VanderWaal, head of marketing for LG Electronics USA. "Literally hundreds of thousands of Americans are purchasing LG 4K Ultra HD TVs this year, and they're clamoring for more Ultra HD content. We hope they enjoy this experience as much as we enjoy bringing it to them."
With the help of the LG Smart TV+ webOS™ connected TV platform, users will enjoy 4K content along lightning-quick transitions between broadcast TV, streaming services and external devices, with speeds similar to regular channel switching. Consumers can control everything on their Smart TV with the easy-to-use LG Magic Remote, which works with simple gestures, point and click, scroll and voice commands.
"We're excited to continue to enhance our entertainment catalog by adding the Lady Gaga and Tony Bennett Cheek to Cheek LIVE! musical event in Ultra HD later this year," said Michael Paull, vice president, Amazon Digital Video. "It will be available through the Amazon Instant Video app on compatible Ultra HD devices, including LG 4K Ultra HD TVs, and we look forward to providing a truly unforgettable viewing experience for our customers to enjoy."
LG was the first to introduce Ultra HD TV to the United States. LG's 2014 Ultra HD LED line-up represents one of the most comprehensive in the market, 16 models ranging from 40- inch class to 105-inch class models. The 2014 models exceed the Consumer Electronic Association's new characteristics for "Connected Ultra HDTVs," and are designed to handle 4K content from streaming services such as Amazon and Netflix.**
The long-awaited collaborative jazz album from Lady Gaga and Tony Bennett, "Cheek to Cheek," is being released today via Streamline/Columbia/Interscope and will be available on Amazon.com for MP3 download and CD purchase. Amazon.com vinyl availability of the album will begin on Oct. 7. "Cheek to Cheek" represents a collaboration between two legendary musical artists spanning the generations to celebrate jazz music.
*Wireless Internet connection & certain subscriptions required and sold separately. Agreement to smart TV terms and conditions required to use certain smart features. Content and services vary by product and are subject to change without notice. WebOS does not support Flash.
**4K/UHD content delivery standards still being developed.
---
Don't forget to follow our Spotify Playlist: