Nova to release 'Il Ritorno'
|
"Il Ritorno" is the sum of a long experience of the band members on the Italian underground and luckily getting the best of its past year efforts in shaping an original sound and conceptual essence. The inner feelings of Nova's creation breeds on the manifestation of ancient awareness, ossianic evocations to revolt against modern decadence, the lack of reactivity and will to life. The impetuous aggression is emphasized by skilful melodies recalling a splendour of a noble, far age of mythology. The fake face of modernity is crushed by an altered vibration drawing the listener to a catharsis. Watching the ruins from a throne of tragedy is what "Il Ritorno" is going to manifest, hoping to make the listener more conscious of the imploded strength of the human being.
You can smell the ancient times, you can taste the will to react, you can see the starts far away with their glimpse while night is falling, flowing to new aeons of perceptions like a phoenix raising.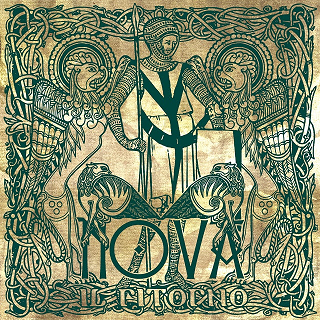 1. Sangue di Corvo 4:20
2. D'in sulla Vetta 3:13
3. Legione del Vento 3:15
4. Ave Vittoria 2:21
5. La Danza delle Spade 1:57
6. Inno al Rogo 4:19
7. Un Mondo senza l'Uomo 4:52
8. Rituale dell'Orrenda Visione 4:19
9. Il Ritorno 5:35
10. Draco 4:11
11. 2.35
'Il Ritorno' will be out October 6th.
---
Don't forget to follow our Spotify Playlist: