Armada Music Announces Brand New Label and Re-brandin​g of 2 Sub-Labels
|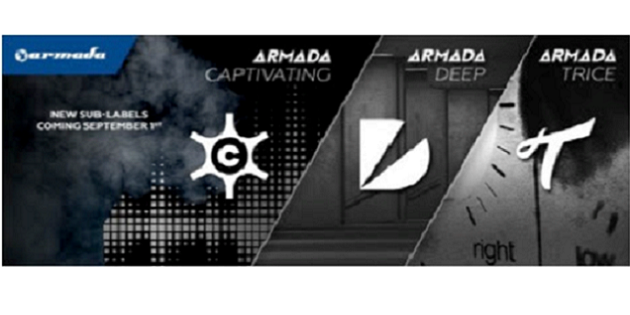 Armada Music has just gone public and announced two re-branded flagship labels: Armada Captivating, and Armada Trice, and a brand new label Armada Deep. The first releases from these labels are currently in pre-order and will be available September 1st. With new artwork and a fresh batch of upcoming releases, these labels represent the different core concepts that are and have been a part of Armada Music. Some former sub-labels will be discontinued, and others will remain. 'Captivating Sounds' will now become 'Armada Captivating', TRICE Recordings is now 'Armada Trice', and the former 'Electronic Elements', 'Black Book Audio', and 'M Recordings' will now be one label: 'Armada Deep'.
A&R and CEO Maykel Piron says: "I am super proud of the Armada brand. Due to the digital age we currently live in, it makes sense to operate with fewer imprints and communicate Armada in a broader way. Obviously we will also remain focused on artist labels like, among others, Armind and ASOT, Future Sound of Egypt, Mainstage, and Aropa."
Armada Music was founded in June, 2003 by Armin van Buuren, Maykel Piron and David Lewis, whose names came together to form 'ArMaDa'. For over 10 years, the record company has brought out records within the wide spectrum of electronic dance music. The label releases in the genres of: trance, house, progressive, techno, deep house, and pop music. From 2009-2013, the Dutch label was awarded the 'Best Global Dance Label' title from the International Dance Music Awards in Miami. Working with and managing some of the biggest names in the dance music industry, Armada is home to, among others, Dash Berlin, W&W, Aly & Fila, Cosmic Gate, and Armin van Buuren himself. Newer additions to the Armada artist roster include: David Gravell, Audien, KRONO, and Andrew Rayel.
---
Don't forget to follow our Spotify Playlist: