Artist Tom Zotos Debuts Jimi Hendrix Legacy Collection
|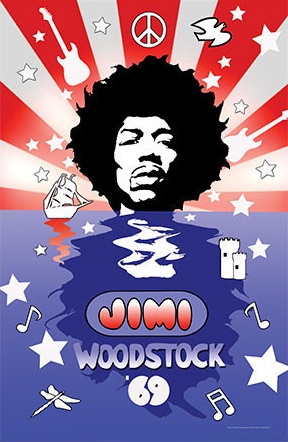 Tom Zotos teams up with the Jimi Hendrix Foundation to exclusively offer his newest collection of 3D poster art and t-shirts to fans at www.jimihendrix1.com. A generous portion of the proceeds will benefit the Jimi Hendrix Foundation, a non-profit charitable organization founded by Jimi's father, "Al" Hendrix. Zotos is known for philanthropic B2B collaborations that benefit charities. His last endeavor raised multi-millions for three prominent charities.
Supporting the Musical Passion of Children
"Sales of the Jimi Hendrix posters and t-shirts will support the foundation's program 'Music For Life,'" said Joe Rosignolo, President/CEO of the Jimi Hendrix Foundation, "dedicated to benefitting children with a musical passion." One image, illustrated by Zotos, "I've Got A Guitar", celebrates Jimi Hendrix at age 15 when his dad, Al, gave him his first electric guitar. Jimi yelled, "I've got a guitar!" which echoed throughout the neighborhood.
45th Anniversary of Woodstock
To celebrate the 45th anniversary of Woodstock, a cultural touchstone that influenced generations, Zotos graphically captured the performance of the "Star Spangled Banner" in his 60's inspired "Star Spangled Jimi". The collection of limited edition posters and t-shirts highlight Jimi Hendrix's greatest and pivotal performances at Monterey Pop Festival, Hollywood Bowl, Royal Albert Hall, and includes a commemorative, "'Scuse Me", that pays the final homage to Jimi's short but inspirational career.
Digital Printing Enhancement
"Scodix On Top" is being used for the first time on a collectible art print by artist Tom Zotos. The first three posters in the collection features the revolutionary 3D effect using "Scodix On Top", a new and unique technology that enhances the artwork to transcend personal senses beyond just sight. Developed by Scodix Ltd., the new digital enhancement technique adds a 3D look–and-feel to high-quality artwork that stimulates human senses and provides depth to imagery. The breakthrough Scodix SENSE™ experience is now available through high-end commercial printing operations worldwide.
---
Don't forget to follow our Spotify Playlist: