Be Discovered By GRAMMY-Nominated Joe Bonamassa
|
Guitar hero Joe Bonamassa is on the search to find undiscovered artists for his Keeping the Blues Alive At Sea's Soundcheck Stage. In partnership with Bonamassa's own Keeping the Blues Alive Foundation and Sixthman, the GRAMMY-nominated singer-songwriter/guitarist is looking for five talented up-and-coming artists to join him and other blues titans John Hiatt, Robben Ford, Robert Randolph and the Family Band, and more. Each final act will receive two interior cabins, $1,000, and will play two 45-60 minute sets for thousands of new fans on board Norwegian Pearl during the 4-day music cruise.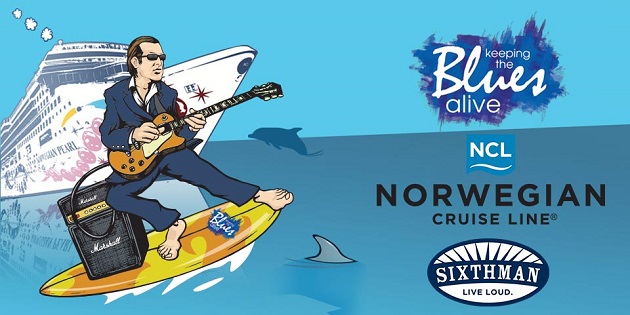 Exposing undiscovered and independent artists to his community is something Bonamassa has always championed. His partnership with Guitar Center's King of the Blues and Blues Masters competitions offer undiscovered blues guitarists career-altering opportunities for development and exposure under his mentorship.
"Keeping the Blues Alive at Sea" is a four-day music festival aboard the beautiful Norwegian Pearl, featuring Bonamassa and other passionate blues-rock musicians including John Hiatt, Robben Ford, Robert Randolph and the Family Band, Ana Popovic, Joanne Shaw Taylor, and more. The cruise will sail February 17 – 21, 2015, from Miami to Key West, Florida and Nassau, Bahamas, packed with ground-breaking sets from these legendary artists. As part of their partnership, Norwegian Cruise Line will donate $25,000 to the Keeping the Blues Alive Foundation to further the organization's mission of funding music programs and scholarships in schools.
Bonamassa has twelve #1 Billboard Blues Albums (more than any other artist) and received his first GRAMMY nomination in 2013 for his collaboration with Beth Hart on the duo's sophomore album Seesaw. His highly anticipated brand new solo album Different Shades Of Blue (J&R Adventures) will be released September 23, 2014.
---
Don't forget to follow our Spotify Playlist: