North Sea Jazz Festival makes Asian debut
|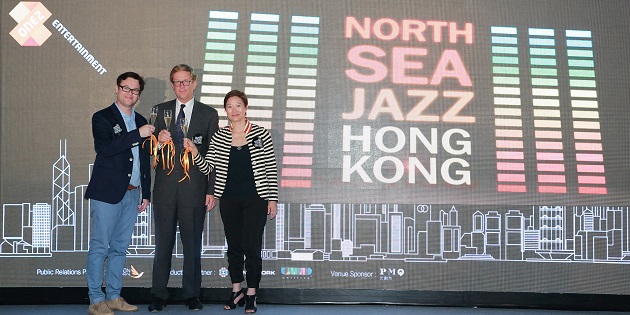 Twice hailed as "The World's Best Jazz Festival" by JazzTimes Magazine, the North Sea Jazz Festival will be making its Asian debut in Hong Kong from 14 to 16 November 2014. The three-day world-renowned Dutch export will take place on three outdoor stages at the city's stunning harbourfront. It will feature some of the biggest names on today's international jazz and music scenes as well as offer a platform for emerging homegrown talent to shine.
The festival organisers saw in Hong Kong an ideal counterpart to Rotterdam for the franchise's first-ever Asian edition. "Calling Hong Kong home for the last three years, and seeing Hong Kong's growing reputation as Asia's cultural hub, I felt that this is the best time to bring the North Sea Jazz Festival," said Robert van Hunsel, CEO and Co-founder of One2 Entertainment, the Dutch-Hong Kong company presenting the festival. "The idea for the future is then to connect more of the harbour cities of Asia — Shanghai, Singapore and Bangkok — with the North Sea Jazz Festival."
Besides building musical bridges between the east and the west, the Festival will be accompanied by trade initiatives aiming to strengthen economic relations between the two great port cities of Rotterdam and Hong Kong. "This will be an unparalleled opportunity for Rotterdam and Asian harbour cities to strengthen existing connections and seek out creative new synergies in business," said van Hunsel.
One challenge in bringing in a renowned festival is preserving its heritage while imbibing it with local flavour. Van Hunsel acknowledges no small effort of the event's three-year planning went into getting the festival's "body and soul" right. North Sea Jazz Hong Kong's "local" twist will include pop-up performances in shopping malls, restaurants and public venues across the city, as well as an education initiative targeted at young musicians.
Tickets will go on sale in July. Day tickets will cost HK$960 and full weekend passes HK$2,300. An extensive array of hospitality is available at the Festival, including the North Sea Jazz Hong Kong Pavilion which will have all day food and beverage provided by a premium luxury food and beverage supplier.
Started in 1976, the North Sea Jazz Festival was held in The Hague (Netherlands) before moving to its current location in Rotterdam in 2006 to accommodate the growing attendance. The festival boasts a strong line-up tradition and continues to attract many of the biggest stars in music each year. This year the festival anticipates over 1,000 musicians playing in 150 performances at the festival's 13 stages. Audience numbers have reached a record 70,000, making it the world's largest indoor music festival, and the third biggest jazz festival after Montreux and Montreal. Following a widely acclaimed launch of its sister festival in the south Caribbean island of Curacao in 2010, North Sea Jazz Hong Kong marks the franchise's first venture into Asia.
---
Don't forget to follow our Spotify Playlist: