ZABA released by Glass Animals
|
Glass Animals have been releasing 'ZABA'on 9th June through Wolf Tone/ Caroline International. The album was recorded at Wolf Tone Studios in London, and produced by frontman Dave Bayley under executive production of Paul Epworth. The 11 track record features new single Gooey and a reworking of previous limited EP release, Black Mambo.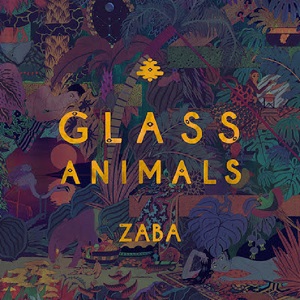 Glass Animals are a band with a very natural sense of mystery. Singer and song-writer Dave Bayley never had any intention whatsoever of forming a group, but around three years ago at medical school, insomnia gave him some precious spare hours. And what better use of spare hours is there than listening to music and messing around with Garage Band on a half-dead relic of a laptop you were gifted by your Dad?
So the bare bones of Glass Animals first songs took shape late at night inspired by South London's bass music scene – recorded secretly and quietly in a small room near Elephant and Castle. Surprisingly for everyone, the result was a beautiful piece of ambient electronica called Golden Antlers, pitched somewhere between Anthony & the Johnsons and James Blake.
Eventually this was shown only to Dave's three closest friends, now band mates, who tweaked it and pinched its haunches a little before they put it onto the Internet. Within days of the music going up managers, artists, promoters, agents and lawyers all began to get in touch. These friends had formed a band around themselves without even realising it.
The band signed a publishing deal with Beggars, and then began speaking to various labels, at which point Dave knew he was never going to go back to science. In the late spring of 2012 the band released a single on XLs Kaya Kaya imprint. A year later, with Black Mambo, they became one of the first signings to Paul Epworths Wolf Tone label.
Created in Epworths own studio it is undoubtedly among this year's most striking debuts. The title, lifted from Daves favourite childhood story, comes from William Steig's The Zabajaba Jungle. Steig's evocation of childhood adventure, exoticism and discovery is brilliantly fresh. In the book a boy called Leonard penetrates this wild, mysterious place and meets squawking birds, raucous insects, carnivorous flowers and petrified monsters. At one point Leonard is kidnapped by a pack of mandrills and taken to three jungle judges who have human bodies and animal heads. He escapes, takes a ride on a butterfly, and finally finds his parents chilling in the middle of the jungle, in a living room that exists within in a massive glass jar.
ZABA is one complete beast and a journey you will get most from if you immerse yourself fully and listen from start to finish – before you is a series of situations describing a wealth of strange characters and the weird, subtropical land in which they exist. The sound of the record, Dave says, "is like a backdrop of man-made wilderness"
What resonates more than ever though are the stories within the songs and the characters used to populate and deliver those stories. Inspired by the exploratory, New World scenarios of Apocalypse Now, The Island of Dr Moreau, Heart of Darkness, The African Queen and Mosquito Coast, Zabas songs tackle the humanisation of nature and human interference with nature. Even now a lot of my favourite books are those books that I grew up with, he says. Things like Zabajaba, like Roald Dahl, like Wind in the Willows. I suppose all Ive been doing is using those little creatures and animals to cover up what I really meant, to disguise who and what I was really talking about.
The narratives and animals merely mask the real – much darker – subject matter. Each song encapsulates a different emotion, from loneliness and regret to guilt, uncertainty, grief and frustration. The lyrics still mean something quite specific to me, but Ive left them slightly vague. Hopefully other people can identify with them in different ways, finding their own meaning…
Inspired by Kanye West and Charles Darwin, Nina Simone and the Velvet Underground, ZABA is a rich and textured work, a very special record indeed. With Dave producing and Epworth as A&R and mentor, the studio became their home and the band were free to record, improvise and write at their own speed and so their sound has become a bigger, brighter, heavier and more intense experience than ever before.
The album opens with Flip, its the sound of you entering another of world. That sound Its like someones opening up your head with a can opener, Dave laughs. Pools is a brilliant pop song, repetitive and swaggering, its bright on the surface with something unutterably dark in the lyrics. Gooey is wobbly and child-like, a hymn to naivety. Theres a confidence in the way children act, Dave says. I was trying to push that confidence into the beat. Walla-Walla goes back to Daves love of Timbaland and Dr Dre, while Intruxx, initially the introduction to the entire record, summarises this entire new world youre entering. Toes began as a small sketch of a song, a hip-hop groove that grew and grew, while Wyrd, which the band have been experimenting with live, has become the biggest, loudest heaviest beast on the whole album.
I used to be really into super-clean, no flaws production, says Dave, but now I like the context and soul that mistakes, chopped samples, and swirly white amp-noises give you. We definitely were a bit self-conscious, we were once afraid to do something bold. Now when were together in the studio we dont worry about those things. In fact, we dont worry about anything at all
---
Don't forget to follow our Spotify Playlist: