Dutch drummer Lucas van Merwijk hits Los Angeles
|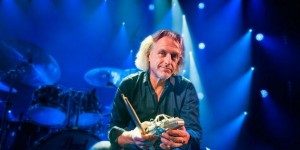 Lucas van Merwijk will be performing in Los Angeles on the 28th of september with the CSULA Afro-Latin Jazz Ensemble. The concert is the final event of the Summer Sundays Concert Series at the MOLAA (Museum of Latin American Art). Lucas van Merwijk has been leading his Cubop City Big Band for nearly 20 years. The repertoire will consist of a mix of Beny Moré, Arsenio Rodriguez and Machito mambo dance classics.
Evoking the sounds of Cuba's Big Band Era with famed Dutch percussionist Lucas Van Merwijk and Cuban Master percussionist Calixto Oviedo, this performance features the CSULA Afro-Latin Jazz Ensemble and offers an opportunity to experience the works of legendary Arsenio Rodriguez in a Big Band format for this first time in the USA. Besides music of Arsenio Rodriguez the band will perform music of Beny Moré and Machito as performed by Van Merwijk's Cubop City Big Band.
The Cubop City Big Band was named after the New York club 'Cubop City' where such legends as Charlie Parker, Dizzy Gillespie and Chano Pozo used to perform in the nineteen forties and fifties. In the early years of its existence the orchestra was inspired by the great cuban bandleader Machito. During the years to come music of other pioneers of Latin music, such as Arsenio Rodriguez and Beny Moré became an inspiration for new projects. Later on new directions included Musica de Colombia, Musica de Venezuela, Musica de Uruguay, Musica de Grupo Afro Cuba, Music of Emiliano Salvador, Tribute to Tito Puente and more. Invited guest musicians included Andy Gonzalez, Armando Peraza, Luís Conte, Raul Rekow, Armando 'Chocolate' Armenteros, Nelson Gonzalez, Roberto Quintero and Edmar Castañeda.
Drummer / percussionist Lucas van Merwijk is now available to share his experience and 100 plus salsa and latin jazz big band charts with orchestras around the world. Scores include music from Machito (CD the Machito Project), Beny Moré (CD Moré and More), Arsenio Rodriguez (CD Arsenio), Musica de Colombia, Music from the Movie 'The Mambo Kings', Musica de Venezuela, Musica de Uruguay, Musica de Grupo Afro Cuba, Tribute to Tito Puente charts and more.
Legendary arranger Marty Sheller on The Cubop City Big Band's latest release 'Que Sensación!: 'Terrific arrangements, excellent execution and wonderful musicianship all around. It's a breath of fresh air in a Latin Jazz scene saturated with mediocre music.'
---
Don't forget to follow our Spotify Playlist: