L.A. Rap Metal Fusers THE CHIMPZ Reveal Upcoming Self-Titled EP
|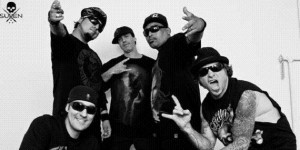 SoCal rap-metal band The Chimpz are pleased to announce brand new details on their upcoming, adrenaline-injected self-titled EP, hitting stores on May 13, 2014. The EP will include the band's latest single, 'War Machine'. The band is currently working on the EP at Validus Recordings in North Hollywood, CA with top-notch producer Ryan Greene (NOFX, Bad Religion). The Chimpz have the utmost respect for Ryan Greene and his production work, which comes as no surprise as he is also responsible for producing the band's previous EP, the critically celebrated Who I Can Trust., "Ryan Greene is a professional producer in every sense. He has the ability to get the best performance out of each of us, great guy to work with, and is a true master of his craft!" "The Chimpz are by far, the hardest working band I know and feel they've put everything they have into the new songs. I look forward to being a part of the project," adds Ryan Greene.
The new self-titled EP goes above and beyond what The Chimpz Nation is used to hearing from the band – with a fresh songwriting approach featuring memorable hooks and denser grooves. "This EP has killer hooks, verses, choruses and bridges, with heavy rhythmic grooves with an awesome and unique style," states lead guitarist Scary Cary. "I can't wait to share this with our fans, as it will keep them excited, interested, and they'll go crazy in a good way, every time they listen to it!" "I'm very excited about this EP, for many reasons," adds bassist Sonic. "It delivers songs with awesome arrangements that will surprise our fans and keep them interested in listening to it for years to come."
The Chimpz have been touring consistently since their inception, playing shows like the Rockstar Energy Drink Uproar Festival, Seattle Hemp Fest, Orange County Fair, Lane County Fair, Whiskey a Go Go, House of Blues, and other great venues. THE CHIMPZ have several upcoming shows in California, Arizona, New Mexico and Oklahoma, including the band's second performance at Rocklahoma!
The Chimpz – Upcoming Events:
5-09-2014 Los Angeles, CA @ House of Blues on the Sunset Strip
5-17-2014 Albuquerque, NM @ Launch Pad
5-21-2014 Tulsa, OK @ The Hunt Club
5-24-2014 Pryor, OK @ ROCKLAHOMA
8-1-2014 Frasier Park, CA @ Fiesta Days Festival
---
Don't forget to follow our Spotify Playlist: