Rob Zombie European Tour Dates Announced for June & July
|
Rob Zombie's first concert film, The Zombie Horror Picture Show, will be released May 19 by Zodiac Swan/T-Boy/Universal Music. The feature-length concert film, recorded live over two sizzling nights in Texas, captures Zombie's elaborate, multi-media production of mind-blowing SFX, animatronic robots, pyrotechnics, oversized LED screens and state-of-the-art light show combined with his powerhouse band featuring John 5, Piggy D and Ginger Fish.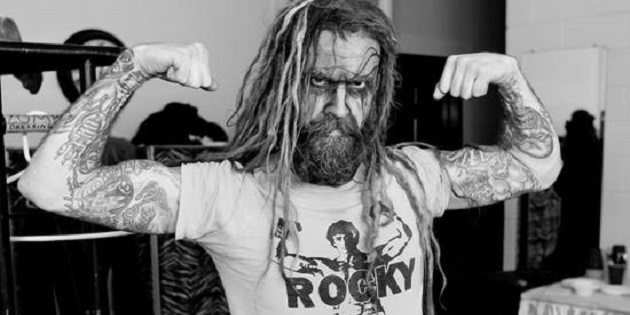 The Zombie Horror Picture Show, available on Blu-ray, DVD and longform digital video, puts the viewer at the centre of the hot and nasty action for a blistering set of 16 Rob Zombie classics, including "Dragula," "Dead City Radio and the New Gods of Super Town," "Living Dead Girl," "More Human Than Human," and the crushing cover of Grand Funk Railroad's "We're An American Band" from the seven-time Grammy® nominee's U.S. Top 10 2013 album, Venomous Rat Regeneration Vendor.
To support the release of The Zombie Horror Picture Show, Rob Zombie is set to tour Europe across June and July. The 2014 dates are Zombie's first European dates since 2012. That year saw Zombie also dominate the touring world, blowing away audiences on the road with Megadeth, then with Marilyn Manson for the "Twins of Evil Tour", where Zombie and his band of maniacs brought their hair-raising theatrics, insane guitar riffs and vicious beats all around the world. 2014's European run is set to cement Rob Zombie's reputation as one of the most exciting and essential live touring acts.
In 1997, after the breakup of his multi-platinum group White Zombie, Zombie went on to achieve even greater success as a solo artist with several more multi-platinum and gold albums including Hellbilly Deluxe, The Sinister Urge and Educated Horses.
As a rock icon and filmmaker with a unique vision, Rob Zombie has continuously challenged audiences as he stretches the boundaries of his music and films. Zombie has sold more than fifteen million albums worldwide, and is the only artist to experience unprecedented success in both music and film as the writer/director of six feature films with a worldwide gross totaling more than $100 million.
ROB ZOMBIE: EUROPEAN TOUR 2014
Festivals unless stated
Thurs 5th June Solvesbord, Sweden Rock Festival. SWEDEN
Sat 7th June Nurburgring, Rock Am Ring. GERMANY
Sun 8th June Nuremberg, Rock Im Park. GERMANY
Mon 9th June Landgraaf, Pinkpop Festival. HOLLAND
Wed 11th June Muenster, Skater's Palace. GERMANY headline
Thurs 12th June Paris, Bataclan. FRANCE headline
Fri 13th June Donnington, Download Festival. UK
Sun 15th June Nickelsdorf, Novarock Festival. AUSTRIA
Mon 16th June Budapest, Aerodrome Festival. HUNGARY
Tues 17th June Prague, Aerodome Festival. CZECH REPUBLIC
Fri 20th June Clisson, Hellfest Festival. FRANCE
Sun 22nd June Barcelona, St Jordi Club. SPAIN headline
Mon 23rd June Madrid, Riveria. SPAIN headline
Thurs 26th June Rome, Rock in Roma Open Air. ITALY w/Megadeth
Fri 27th June Milan, Ippodromo Del Galoppo Open Air. ITALY w/Megadeth
Sat 28th June Wetzikon, Eishalle Wetzikon. SWITZERLAND w/Megadeth
Sun 29th June Dessel, Graspop Festival. BELGIUM
Tues 1st July Utrecht, Tivoli Vredenburg. HOLLAND headline
Wed 2nd July Luxembourg, Rockhal. LUXEMBOURG headline
Fri 4th July Roskilde, Roskilde Festival. DENMARK
Sat 5th July Leipzig, Full Force Open Air Festival. GERMANY
---
Don't forget to follow our Spotify Playlist: