New Nazareth album 'Rock 'n' Roll Telephone' in stores in June
|
With a career spanning 45 years and 22 albums, Dunfermline rockers Nazareth are back with Rock 'n' Roll Telephone, which is released on 9th June 2014 in the UK (3rd June in North America, 6th June in Germany) by Union Square Music. The band's 23rd studio album, their first since 2011's Big Dogz, features 11 original heavy rockers and bluesy ballads. The Deluxe Digipack edition will include a second disc with two additional studio recordings and five live tracks, and will also be available in a double LP gatefold vinyl version. A welcome return to form, this may be the last album to feature original singer Dan McCafferty, who has had to stand down from touring duties due to ill health. If this does prove to be Dan's last stand, he retires on a high note with his legacy as one of rock's greatest vocalists assured.
Having initially broken in to the London-dominated music scene of the '70s with their unique brand of rock (they were named Melody Maker's 'Brightest Hope' in 1973), the band have spent over forty years touring the world and releasing new music. One of rock's most enduring acts, they have played everywhere from America and Russia to a mountain top gig in the Austrian Alps last year, and continue with a resilience and longevity that is almost unmatched.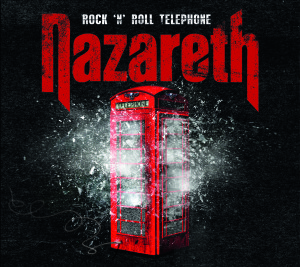 Deluxe 2 CD and Double Vinyl Track Listing:
Disc / LP 1
(1) Boom Bang Bang
(2) One Set of Bones
(3) Back 2B4
(4) Winter Sunlight
(5) Rock 'n' Roll Telephone
(6) Punch A Hole In The Sky
(7) Long Long Time
(8) The Right Time
(9) Not Today
(10) Speakeasy
(11) God of the Mountain
Disc 2 / LP 2 BONUS TRACKS
(1) Just A Ride
(2) Wanna Feel Good?
Live
(3) Big Boy*
(4) Kentucky Fried Blues**
(5) Sunshine***
(6) Expect No Mercy*
(7) God Save The South***
*recorded live in Somerset, England 2008
**recorded live in Milton Keynes, England 2006
***recorded live in Barrie, Ontario, Canada 2000
---
Don't forget to follow our Spotify Playlist: