Lykke Li Festival 2014 Appearances Confirmed For Latitude, Sonar, Outside Lands And More
|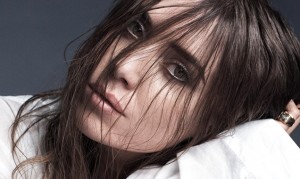 Swedish singer-songwriter Lykke Li (AKA Li Lykke Timotej Svensson Zachrisson) has unveiled the video for her haunting new single 'No Rest for the Wicked'. See her website. The single is released on April 21st and is taken from her highly-anticipated third studio album, I Never Learn, due on 5th May via LL Recordings/Atlantic Records.
Lykke commented,'No Rest For The Wicked' is the second song I wrote for I Never Learn. I wrote it in Sweden when I was packing up my shit, and I'd just gotten out of a relationship and it was a horrible time. I just had the hurt, shame, sadness, guilt, longing. The vocal track, the take, is the demo. In the verse, I'm referring to myself pleading guilty but I'm referring to all of us."
After announcing her US, UK and European tour, the dates quickly sold out including 2 dates at Village Underground in London. UK fans will still be able to see Lykke at Latitude Festival on July 20th. Watch this space for more festival and gig announcements.
European & UK Tour Details:
April 24 – Berns, Stockholm
April 27 – AB, Brussels
April 29 – Astra, Berlin
April 30 – Kesselhaus, Munich
May 2 – E-Werk, Cologne
May 3 -Tivolivredenburg, Utrecht
May 6 – Trianon, Paris
May 8 – Village Underground, London
May 9 – Village Underground, London
May 15 – Apollo Theatre, NYC
May 19 – The theatre at the Ace Hotel, LA
Read more: Lykke Li Festival 2014 Appearances Confirmed For Latitude, Sonar, Outside Lands And More http://www.contactmusic.com/press/lykke-li-festival-2014-appearances-confirmed-for-latitude-sonar-outside-lands-and-more?track=cp
---
Don't forget to follow our Spotify Playlist: