Toby Keith wraps succesful, emotional 2013 "Shut Up And Hold On" for a huge 2014, including Australia
|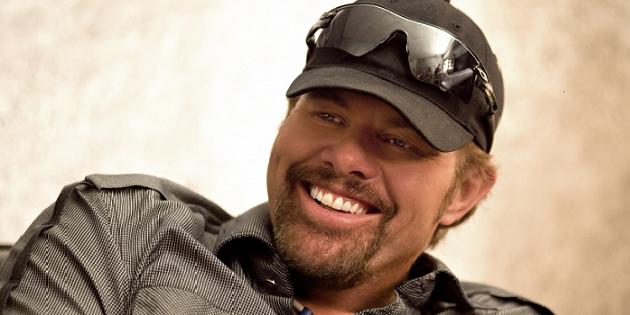 For a self-directed songwriter, music maker and performer like Toby Keith, being in the public eye sometimes means living life with no window shades. In 2013, that meant fans got to share in another round of chart-topping musical accomplishments and career milestones. It also meant seeing Keith handle a tremendous amount of grief and tragedy in the midst of the many other endeavors near to his heart. Musically, Toby's latest album Drinks After Work is offered in standard, deluxe (three additional tracks) and Walmart-exclusive 'Zinepak editions. The collection debuted on Billboard's Country and Top 200 album charts, giving him his 14th all-genre and 21st country in the top tier and boasting his career sales to more than 38 million albums sold. That accumulated success is the foundation upon which Forbes chose to place the Oklahoman on its July 15 cover with the headline "Toby Keith: Country Music's $500 Million Man."
Beyond music, the article noted his annual status as one of music's top earners and pointed to his growing I Love This Bar & Grill restaurant chain, at nearly 20 locations nationwide. Also featured was his Wild Shot Mezcal spirits brand, which remains the No. 1 premium mescal in the U.S. the second year in a row and was introduced to fans through an inflatable Wild Shot bar that was set up at many of Keith's tour dates nationwide.
Speaking of, the Hammer Down Tour – presented by longtime partner Ford F-Series – played to hundreds of thousands of fans in packed venues, again making Keith one of music's top live draws. Among the year's highlights was a performance at the Illinois State Fair that helped the event draw its biggest crowds in more than a decade. The road's bright lights were mixed with darkness for Keith and his team, however, as the Hammer Down Tour was their first without longtime band leader and bass player Chuck Goff, who passed unexpectedly early in the year. Goff was memorialized onstage each night, received a dedication in the liner notes of Drinks After Work and was the subject of the deluxe edition's song "Chuckie's Gone.
Tragedy also struck Toby's hometown of Moore, OK when deadly tornadoes ripped through in May. Rushing back to the state from a Nashville recording studio, Keith assisted with cleanup and served as a face of the community to national media. In July, he pulled together luminaries including Garth Brooks, Willie Nelson, Ronnie Dunn, Trisha Yearwood, Krystal Keith and more for the Oklahoma Twister Relief concert, raising millions to help his neighbors rebuild.
Some things local and personal were anything but sad, however. Most especially, Toby's work co-producing and contributing songs to his daughter's debut album. Krystal Keith's Whiskey & Lace hit stores in December and featured the wedding surprise she wrote for her father, "Daddy Dance With Me," which became a viral video hit.
Lending a hand is a habit for Keith, who completed his 11th USO Tour in the spring, this time visiting the Philippines, Guam and Hawaii. Toby's support of those in military service has led him to devote extended time out of his busy schedule to entertaining and encouraging them every year since 2002.
Much closer to home, Toby was able to celebrate the November opening of the OK Kids Korral, a cost-free home away from home for children and their families being treated for cancer at OU Medical Center Children's Hospital. The culmination of 10 years of work by his foundation, the 25,000-square-foot facility has largely been underwritten by funds generated by Keith's annual golf tournament.
More music, more touring, more success and more giving back are all on tap for 2014, as well. Notably, Keith will make his Australian debut when the Hammer Down Under Tour hits Brisbane, Sydney, Melbourne and the CMC Rocks The Hunter Festival in March. Drinks After Work recently debuted No. 1 and No. 2 on the iTunes country chart on that continent with its deluxe and standard editions, respectively.
Meanwhile, his current single "Shut Up And Hold On" fromDrinks After Work continues to climb the airplay and sales chart. And Toby recently exceeded 20 million in career single download sales, with "American Solider" just hitting platinum certification.
---
Don't forget to follow our Spotify Playlist: