Tiesto, Above & Beyond, and more to perform at 'Thank You Festival' at Merriweather Post Pavilion
|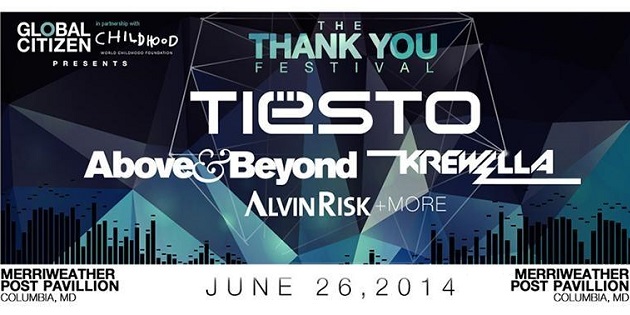 The Global Citizen movement continues its efforts to motivate and educate socially-active youth about the causes and consequences of extreme poverty with a newly announced DC-area concert featuring Tiesto, Above & Beyond, Krewella, Alvin Risk, and more. Presented in partnership with World Childhood Foundation, the multi-act 'Thank You Festival' will take place June 26, 2014 at Merriweather Post Pavilion. The event will recognize the pivotal role of U.S. foreign aid in helping to cut global child deaths by nearly one-half since 1990, and will emphasize the topic of child survival and protection.
The 'Thank You Festival' will focus attention on the world's children, asking leaders to not only ensure children survive beyond their first years, but also that they have an opportunity to thrive throughout their childhood to reach their development potential. The concert will also underscore the fact that today's youth considers the wellbeing of children across the world to be a human rights imperative.
"To become a global citizen, we must extend our compassion beyond our borders. The United States has played a pivotal role in leading child survival and protection efforts worldwide and this event celebrates that," said Hugh Evans, CEO of The Global Poverty Project. "But this is also a chance to educate the younger generation and motivate our leaders to act. The bottom line is increased investment in child survival initiatives could ensure that no child dies for the lack of a 30 cent vaccine."
Globally renowned headliner Tiesto stated, "Through my work with the World Childhood Foundation, I've learned about the millions of kids who are battling abuse and even dying from diseases that have known cures. I hope all my fans will join me in working with these amazing organizations to help these children all around the world live and become healthy and strong so they can enjoy their childhoods."
Princess Madeleine of Sweden, an Ambassador for World Childhood Foundation stated, "Every child deserves a happy childhood. Yet, children around the world still face insecurity in the form of abuse and sexual exploitation. Together we can help children live a childhood free from disease, violence and abuse on the path to a sustainable world without extreme poverty by 2030."
Since 1990, U.S. aid dollars have helped to significantly reduce the number of children who die before their fifth birthday. U.S. aid funding has also helped to cut new polio cases from 1000 a day in 1990, to just 1 a day in 2013, preventing millions of children from becoming disabled. Despite the encouraging statistics, 6.6 million children under five still die each year, most from preventable causes. Children from all socioeconomic backgrounds continue to face challenges of exploitation and abuse, preventing them from having a happy and healthy childhood. Concertgoers can learn about the role the U.S. has played in helping to ensure children everywhere can live a healthy, full life by visiting globalcitizen.org.
Tickets to the 'Thank You Festival' go on sale to the public on Friday, April 11 at www.ticketfly.com. One hundred free tickets will be given away through globalcitizen.org, where fans can take "action" to encourage the United States government to continue its efforts to keep millions of children alive.
The 'Thank You Festival,' is named after World Childhood Foundation's global initiative, Thank You by Childhood. The event builds on the success of the 2012 and 2013 Global Citizen Festivals on the Great Lawn in Central Park in New York City, and the Global Citizen Nights concert series, which launched in March 2013 with a concert by The Fray in Austin, TX.
This event is produced by AEG Live in partnership with Global Citizen and World Childhood Foundation. It is generously supported by the United Postcode Lotteries and Clear Channel, and is promoted in association with Glow Washington, DC.
---
Don't forget to follow our Spotify Playlist: