Asia Returns With New Studio Album: Gravitas on Frontiers Records, March 25th
|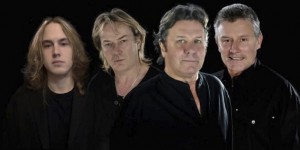 Asia, the legendary British band, moves into the next phase of its extraordinary career with Gravitas, a brave new album that explores different musical landscapes while embracing its familiar musical past. Produced and written by band members John Wetton and Geoff Downes, Gravitas is deeply introspective within a clearly accessible sound. The album also introduces the world to Asia's new guitarist, Sam Coulson, who came at the recommendation of Mr. Big's Paul Gilbert.
Scheduled for release on Frontiers Records on March 21st (Europe); and March 25th (North America), the album will be available in two configurations: a standard CD and a Deluxe Edition, that will include two bonus tracks and a DVD. From the title track, Gravitas, which chronicles a man's struggle in the battlefield of life, to the powerfully compelling tale of unrequited love, "The Closer I Get To You," the album is a tour de force for the band whose music has become a staple to rock fans.
"Pure, unadulterated and stereotypical Asia, with raw energy, enthusiasm and free from impurities," says John Wetton. "It conveys the spectrum of emotion and colour from real life agonies to ecstatic fantasy of escapism. Great songs, fabulous performance. 'Gravitas' is Asia by Asia. At last."
Asia's debut album exploded onto the music scene in April,1982, and was the best selling album in the world of that year. Featuring Geoff Downes on keyboards; Steve Howe on guitar; Carl Palmer on drums; and John Wetton on lead vocal and bass; Asia was the logical successor to their collective bands of the 70s: Yes, ELP, King Crimson, UK, and The Buggles. The original Asia reformed in 2006.
"It always was a great live band, but this time the dragon has awakened with fresh energy, direction and purpose," says Wetton. "As with any new Asia album, putting it all together presents something of a challenge," says Geoff Downes. "Everyone involved rose way above and beyond. When we step on stage now; we can feel it and I know the fans can feel it."
For Asia's long-devoted fans, the band's return is greatly welcomed. As Carl Palmer says: "Performing on stage is where this band truly comes into its element. Seeing the fans reacting to our music is what makes it all worthwhile. It is the fuel that drives this train we call Asia."
---
Don't forget to follow our Spotify Playlist: